Posted: Sat, Nov 28 3:51 PM ET (2051 GMT)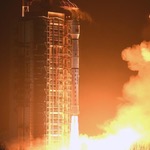 China launched the latest in a series of reconnaissance satellites on Thursday. A Long March 4C rocket lifted off from the Taiyuan Satellite Launch Center at 4:24 pm EDT Wednesday (2124 GMT Wednesday, 5:24 am Thursday Beijing time) and placed the Yaogan-29 satellite into orbit. The satellite, according to official media accounts, will be used for experiments and civil applications, but outside observers widely believe the Yaogan series is used for military applications.
Posted: Sat, Nov 21 6:11 PM ET (2311 GMT)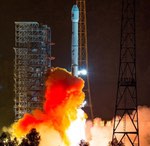 A Long March rocket successfully launched a communications satellite developed for Laos. The Long March 3B lifted off from the Xichang Satellite Launch Center at 11:07 am EDT Friday (1607 GMT Friday, 12:07 am Beijing time Saturday) and placed the LaoSat-1 satellite into orbit. The 3,800-kilogram satellite was built by the China Academy of Space Technology for the government of Laos. The spacecraft will operate at 128.5 degrees east in GEO, providing communications services in C- and Ku-bands.