Posted: Sun, May 21 9:00 AM ET (1400 GMT)
China Great Wall and Palapa Satelit Nusantara Sejahtera, an Indonesian joint venture, signed a contract May 17 in Jakarta for the Palapa-N1 spacecraft. Palapa-N1 will carry a Ku-band payload and replace Palapa-D, whose orbital lifetime was limited when the Long March rocket that launched it in 2009 underperformed. The companies also announced a non-binding agreement for a Ka-band satellite, PSN-7.
Posted: Sat, Dec 31 9:51 AM ET (1551 GMT)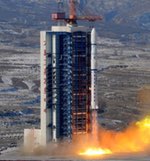 Two Chinese satellites placed in the wrong orbit after a launch earlier this week are raising their orbits. The two SuperView-1 Earth imaging spacecraft, launched Wednesday morning Beijing time on a Long March 2D, were placed in elliptical orbits with a perigee much lower than planned. Tracking data indicates that the two satellites are raising their orbits, likely using their own thrusters. A small student-built satellite also flown on the rocket remains in that original elliptical orbit. Neither the satellites' owner nor other Chinese officials have commented on the apparent problem with the rocket that left the satellites in the wrong orbit.