Posted: Fri, Aug 28 7:50 PM ET (2350 GMT)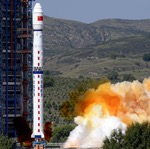 A Chinese Long March 4 rocket placed an Earth imaging satellite into orbit on Thursday. The Long March 4C rocket lifted off from the Taiyuan Satellite Launch Center at 10:31 pm EDT Wednesday (0231 GMT, 10:31 am Beijing time Thursday) and placed the Yaogan 27 satellite into orbit successfully. According to state-run media, the satellite will be used for various civil applications, but the Yaogan series is widely believed outside of China to also serve military applications.
Posted: Fri, Jul 31 2:20 PM ET (1820 GMT)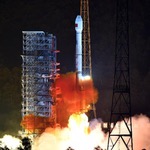 China launched a pair of Beidou navigation satellites July 25. The Long March 3B rocket lifted off from the Xichang Satellite Launch Center at 8:29 am EDT (1229 GMT, 8:29 pm Beijing time) July 25 and placed the two satellites into medium Earth orbit. The satellites are part of the third phase of the country's navigation system, expanding its coverage from its current regional scope to a global one.