Posted: Wed, Oct 29 7:53 AM ET (1153 GMT)
A Long March rocket launched a Chinese satellite Monday that state media says will be used to conduct scientific experiments. The Long March 2C rocket lifted off from the Jiuquan Satellite Launch Center at 2:59 am EDT (0659 GMT, 2:59 pm Beijing time) Monday and placed the Shijan 11-08 satellite into orbit. The spacecraft will be used for unspecified scientific experiments, according to official reports. This satellite is reportedly the last in the Shijian 11 series of spacecraft.
Posted: Sat, Oct 25 10:39 AM ET (1439 GMT)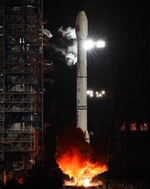 China launched early Friday a spacecraft on a trip around the Moon that the country describes as a test of a future lunar sample return mission. A Long March 3C rocket lifted off from the Xichang Satellite Launch Center at 1:59 pm EDT Thursday (1759 GMT Thursday, 1:59 am Beijing time Friday) carrying a spacecraft identified in some reports as Chang'e-5T1. The spacecraft is flying an eight-day mission that will take it around the Moon before returning to Earth, landing in China's Inner Mongolia region. The mission is designed to demonstrate navigation, reentry, and other technologies needed for China's planned Chang'e-3 lunar sample return mission in 2017. On that mission, a spacecraft will land on the moon, collect lunar samples, and return them to Earth. The launch also carried, as a secondary payload, a privately-developed European payload attached to the rocket's upper stage that will return radiation and other data during the mission.