Posted: Sat, Oct 10 10:08 AM ET (1408 GMT)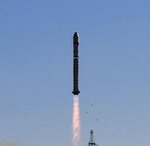 A Long March rocket launched China's first commercial Earth imaging satellites Wednesday. The Long March 2D rocket lifted off from the Jiuquan Satellite Launch Center at 12:13 am EDT (0413 GMT, 12:13 pm Beijing time) and placed four satellites, collectively known as Jilin-1, into a Sun-synchronous orbit. The spacecraft, built by Chang Guang Satellite Technology Co., Ltd. and funded by the Chinese province of Jilin, are capable of taking still and video images, with resolution of the optical still images as sharp as 0.72 meters. The spacecraft are the first Chinese satellites designed to take imagery for commercial applications.
Posted: Fri, Oct 2 12:08 PM ET (1608 GMT)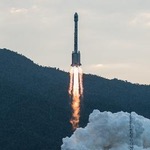 A Long March rocket placed the 20th in a series of Chinese navigation satellites into orbit Wednesday. The Long March 3B lifted off at 7:13 pm EDT Tuesday (2313 GMT Tuesday, 7:13 am Beijing time Wednesday) and placed the Beidou satellite into orbit. The satellite is part of an effort by China to develop its own satellite navigation system comparable to the GPS network in the US. China expects to provide global coverage through Beidou by 2020.