Posted: Sat, Dec 31 9:51 AM ET (1551 GMT)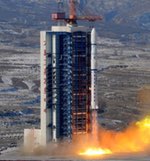 Two Chinese satellites placed in the wrong orbit after a launch earlier this week are raising their orbits. The two SuperView-1 Earth imaging spacecraft, launched Wednesday morning Beijing time on a Long March 2D, were placed in elliptical orbits with a perigee much lower than planned. Tracking data indicates that the two satellites are raising their orbits, likely using their own thrusters. A small student-built satellite also flown on the rocket remains in that original elliptical orbit. Neither the satellites' owner nor other Chinese officials have commented on the apparent problem with the rocket that left the satellites in the wrong orbit.
Posted: Mon, May 30 3:07 PM ET (2007 GMT)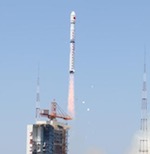 A Long March vehicle placed Chinese and Argentine satellites into orbit May 30. The Long March 4B rocket lifted off from the Taiyuan Satellite Launch Center at 11:17 pm EDT May 29 (0317 GMT, 11:17 am Beijing time May 30) and placed the Ziyuan 3-02 satellite into sun-synchronous orbit. The 2,700-kilogram satellite will serve as a civil remote sensing satellite, providing high-resolution and multispectral images. The rocket also carried two small satellites by Satellogic, an Argentine company, intended to be part of the 25-satellite Aleph-1 constellation for remote sensing.