Posted: Sun, Apr 15 11:21 AM ET (1521 GMT)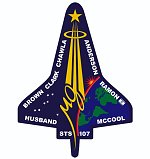 NASA gave $26.6 million to the families of the astronauts killed on the STS-107 shuttle mission in 2003, the Orlando Sentinel reported Sunday. The settlement, made in 2004 but not revealed by the space agency until it released documents associated with the deal under a Freedom of Information Act request, was reached between NASA and the families through a mediation process led by former FBI director William Webster. The settlement was made to avoid lawsuits, and the settlement was not announced by NASA to protect the families' privacy, according to a NASA spokesperson. Few other details about the settlement were included in the documents obtained by the newspaper.
Posted: Wed, Jan 7 10:43 AM ET (1543 GMT)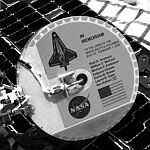 The landing site of NASA's Mars rover Spirit will be renamed to honor the crew of the shuttle Columbia, lost nearly one year ago. The landing site in Gusev Crater will now be known as the Columbia Memorial Station, NASA officials announced Tuesday. The spacecraft includes a small memorial plaque mounted on the back side of its high-gain antenna. An image of the plaque, taken by Spirit after landing, shows the STS-107 mission logo and the names of the seven astronauts on that mission. The new landing site designation must still be approved by the International Astronomical Union.