Posted: Thu, Jul 24 8:09 AM ET (1209 GMT)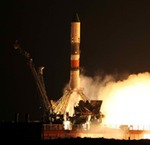 A Progress cargo spacecraft launched from Kazakhstan and arrived at the International Space Station (ISS) six hours later. A Soyuz rocket carrying the Progress M-24M spacecraft lifted off from the Baikonur Cosmodrome at 5:44 pm EDT Wednesday (2144 GMT Wednesday, 3:44 am Thursday local time) and placed the spacecraft into orbit. The Progress followed a "fast track" trajectory that allowed it to arrive at the ISS four orbits after launch, docking with the Pirs module at 11:31 pm EDT Wednesday (0331 GMT Thursday). The Progress carried nearly three tons of supplies and other cargo for the ISS. The Progress arrived two days after another Progress, loaded with trash, departed from the station.
Posted: Thu, Jul 24 7:56 AM ET (1156 GMT)
An issue with ground equipment postponed the launch of space surveillance satellites for the US Air Force by 24 hours. The Delta 4 Medium+ (4,2) rocket was slated to launch Wednesday evening from Cape Canaveral, but the launch was postponed because of an issue with the ground support equipment environmental control system that supports the rocket on the pad, United Launch Alliance (ULA) said in a statement. The launch is now planned for 6:59 pm EDT (2259 GMT) Thursday, at the beginning of a 65-minute launch window. Weather could be an issue for the launch, with only a 30% chance of favorable weather. The launch is for a mission titled AFSPC-4, carrying two Geosynchronous Space Situational Awareness Program (GSSAP) satellites and one Automated Navigation and Guidance Experiment for Local Space (ANGELS) satellite. The satellites will support surveillance of other satellites and debris, particularly in geosynchronous orbit. The existence of the GSSAP program was publicly revealed by the Air Force just earlier this year.
SpaceX releases video of first stage landing
Posted: Wed, Jul 23 8:47 AM ET (1247 GMT)
SpaceX released Tuesday a video show the first stage of its Falcon 9 rocket performing a soft "landing" in the ocean after a launch last...
Progress undocks from ISS
Posted: Tue, Jul 22 9:02 AM ET (1302 GMT)
A Progress cargo spacecraft undocked from the International Space Station on Monday, freeing up a docking port for a new cargo spacecraft to be launched...
Soyuz launches research satellite
Posted: Sun, Jul 20 12:49 PM ET (1649 GMT)
A Soyuz rocket successfully launched the latest in a series of biological and materials research spacecraft early Saturday. The Soyuz-2.1a rocket launched the...