Posted: Fri, Dec 19 7:22 AM ET (1222 GMT)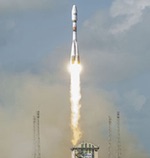 A Soyuz rocket placed four satellites for a communications network into orbit on Thursday. The Soyuz ST-B rocket lifted off from the Guiana Space Center in French Guiana at 1:37 pm EST (3:37 pm local time, 1837 GMT) Thursday carrying a third batch of four satellite for O3b Networks. The four satellites separated from the Fregat upper stage nearly two and a half hours later. The four satellites, built by Thales Alenia Space and weighing 700 kilograms each, will provide broadband Internet services from an orbit of nearly 8,000 kilometers. These satellites join four launched in July and four others launched in mid-2013.
Posted: Fri, Dec 19 7:05 AM ET (1205 GMT)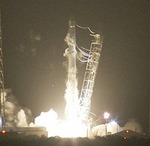 SpaceX announced Thursday that it is delaying a launch of a cargo spacecraft to early January to address a technical issue with its Falcon 9 rocket, among other issues. A Falcon 9 v1.1 rocket was scheduled to launch Friday from Cape Canaveral and send a Dragon cargo spacecraft on the fifth of 12 such mission to the ISS. However, SpaceX said a static fire test of the rocket earlier this week did not go as planned, and the company planned to perform a second test to resolve such issues. That, coupled with the holidays and restrictions on ISS operations caused by the station being in nearly constant sunlight over a ten-day period starting in late December, led NASA and SpaceX to reschedule the launch for January 6. Dragon will deliver nearly 2,400 kilograms of cargo to the station and later return with more than 1,650 kilograms of station equipment and experiments.
India launches GSLV Mark 3 on successful test flight
Posted: Thu, Dec 18 7:01 AM ET (1201 GMT)
An upgraded version of India's most powerful launch vehicle successfully carried out a suborbital test flight on Thursday. The GSLV Mark 3 rocket, also...
NASA postpones decision on asteroid mission design
Posted: Thu, Dec 18 6:50 AM ET (1150 GMT)
NASA has pushed back a decision on what option it will choose for its planned Asteroid Redirect Mission (ARM), asking teams at the agency to...
Curiosity detects methane "spikes" in Martian atmosphere
Posted: Wed, Dec 17 7:41 AM ET (1241 GMT)
NASA's Curiosity Mars rover has detected short-lived increases in methane concentrations in the Martian atmosphere, although scientists cautioned this does not mean the...