Posted: Fri, Nov 21 6:40 AM ET (1140 GMT)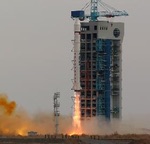 Two Chinese launches placed into orbit Earth observation and disaster monitoring satellites in less than 24 hours on Thursday and Friday. A Long March 2D rocket lifted off from the Jiquan Satellite Launch Center in China at 2:12 am EST (0712 GMT, 3:12 pm Beijing time) Thursday and placed the Yaogan-24 satellite into orbit. The satellite, launched less than a week after Yaogan-23, is reported to be used for civil remote sensing and scientific experiments, but is widely perceived in the West to be a military reconnaissance satellite. At 1:37 am EST (0637 GMT, 2:37 pm Beijing time) Friday, a Kuaizhou rocket placed the Kuaizhou-2 satellite into orbit. The satellite is said by Chinese media to provide information on natural disasters. The Kuaizhou rocket is a small solid-fuel vehicle based on a ballistic missile.
Posted: Thu, Nov 20 7:18 AM ET (1218 GMT)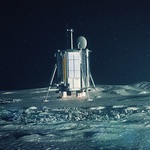 A British company announced plans Wednesday to raise nearly $1 million through a crowdfunding campaign in the next month in the first phase of a billion-dollar effort to land a spacecraft at the Moon's south pole. Lunar Missions Ltd. is seeking to raise 600,000 pounds (US$940,000) through the site Kickstarter in a month to fund studies of its Lunar Mission One concept. That mission would send a robotic spacecraft to the South Pole-Aitken Basin on the Moon. The spacecraft would be equipped with a drill to collect rock samples from a depth of at least 20 meters, and up to 100 meters, for scientific analysis. The mission will also feature a "time capsule" that will be buried in the drill hole; customers can place a message, or even a DNA sample, in the capsule for a fee. The company plans to raise most of the estimated billion dollars needed for the mission over the next decade from the public.
ATK and Orbital postpone vote to approve merger
Posted: Thu, Nov 20 7:03 AM ET (1203 GMT)
ATK and Orbital Sciences Corp. announced this week that they have pushed back shareholder votes on their planned merger until late January in response to...
Russia considering new space station
Posted: Tue, Nov 18 8:50 AM ET (1350 GMT)
Russian media reported Monday that Russia was considering the development of its own space station and could withdraw from the International Space Station after 2020....
Philae drains battery, enters hibernation
Posted: Sat, Nov 15 10:42 AM ET (1542 GMT)
ESA's Philae lander stopped transmitting early Saturday as the spacecraft, located in a shadowed region of comet 67P/Churyumov–Gerasimenko, exhausted its batteries. ESA...