Posted: Thu, Sep 3 9:39 AM ET (1339 GMT)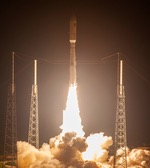 A United Launch Alliance Atlas 5 successfully launched the fourth in a series of military mobile communications satellites Wednesday. The Atlas 5 551 lifted off from Cape Canaveral at 6:18 am EDT (1018 GMT) Wednesday and released the MUOS-4 satellite into geostationary transfer orbit nearly three hours later. The launch had been delayed two days because of weather, and took place nearly 20 minutes late Wednesday because of a brief glitch with ground equipment. The satellite is the fourth in the Mobile User Objective System, which provides mobile communications for military forces.
Posted: Thu, Sep 3 8:54 AM ET (1254 GMT)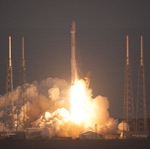 SpaceX expects to perform the next launch of its Falcon 9 rocket, and the first since a June failure, in a couple of months, company executives said this week. SpaceX president Gwynne Shotwell said Monday that launch is likely a "couple of months" away, longer than the company originally expected as it takes time to perform thorough engineering reviews of the vehicle. The last Falcon 9 launch, on June 28, failed when a strut holding down a helium bottle in an upper stage propellant tank failed, causing the tank to overpressurize and burst. That next launch will also be the first of the "uprated thrust" version of the Falcon 9, with a 33% increase in performance over the existing Falcon 9 v1.1. The company has not disclosed who the customer will be for that return-to-flight mission.
Soyuz launches on two-day mission to the ISS
Posted: Thu, Sep 3 8:45 AM ET (1245 GMT)
A Soyuz spacecraft carrying crewmembers from Russia, Denmark, and Kazakhstan launched early Wednesday on a two-day mission to the ISS. The Soyuz TMA-18M...
NASA selects Kuiper Belt target for New Horizons
Posted: Mon, Aug 31 9:46 PM ET (0146 GMT)
NASA announced Friday that it has chosen a small object in the distant Kuiper Belt that the New Horizons spacecraft will fly past at the...
Weather delays Atlas launch
Posted: Sat, Aug 29 11:00 AM ET (1500 GMT)
A forecast of stormy weather has postponed Monday's scheduled launch of a military communications satellite on an Atlas 5 from Florida. The Atlas 5...