Posted: Thu, Aug 28 10:01 AM ET (1401 GMT)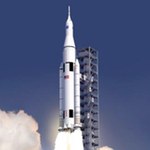 NASA announced Wednesday that its Space Launch System heavy-lift rocket has passed a key review, but also said the rocket may not be ready for its first launch until November 2018, nearly a year later than previously planned. The SLS completed what NASA calls its Key Decision Point C (KDP-C) review, clearing the program to proceed into further development. The KDP-C set an estimated cost of that development at just over $7 billion, but also said the rocket would be ready for its first flight no later than November 2018. NASA had previously indicated SLS would launch on its first mission, EM-1, in December 2017. NASA officials said they are still working towards that earlier date, and the November 2018 date comes from models with a confidence level of 70 percent. Separate KDP-C reviews of SLS ground systems, and of the Orion spacecraft, are planned before NASA officials believe they will have a better estimate of the EM-1 launch date.
Posted: Wed, Aug 27 8:01 AM ET (1201 GMT)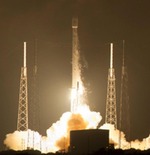 SpaceX has delayed the next launch of its Falcon 9 rocket, which was scheduled for early Wednesday, by one to two weeks to review potential failure modes with the rocket. The company said in a statement Tuesday night, several hours after the delay was first announced, that it wanted "to review all potential failure modes and contingencies again," but said there was no specific issue with the rocket itself or its satellite payload, AsiaSat 6. The company also said the delay was not specifically linked to the loss of its F9R-Dev experimental vehicle during a flight Friday at the company's Texas test site. That flight, SpaceX said, suffered from a "blocked sensor port problem" that would not have been an issue on an operational Falcon 9.
Commission established to review Soyuz launch anomaly
Posted: Tue, Aug 26 1:02 PM ET (1702 GMT)
Arianespace announced Monday that it has established an independent commission to review the anomaly with Friday's Soyuz launch that placed two Galileo navigation satellites...
Next Falcon 9 launch slips one day
Posted: Mon, Aug 25 4:37 PM ET (2037 GMT)
SpaceX has delayed its next Falcon 9 launch one day, to just after midnight Wednesday, to allow more time to ensure there are no links...
Sea Launch to lay off staff during "manifest gap"
Posted: Mon, Aug 25 4:26 PM ET (2026 GMT)
Commercial launch provider Sea Launch will lay off some of its employees and take its vessels out of service temporarily as it deals with a...