Posted: Thu, Apr 16 2:05 PM ET (1805 GMT)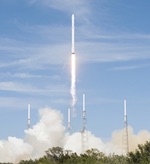 A SpaceX Falcon 9 successfully launched a Dragon cargo spacecraft to the International Space Station on Tuesday, but an attempt to land the first stage on a ship in the Atlantic fell just short of success. The Falcon 9 v1.1 lifted off from Cape Canaveral, Florida, at 4:10 pm EDT, one day late because of weather, and placed the Dragon cargo spacecraft into orbit ten minutes later. The Dragon is carrying two tons of supplies for the ISS nd is slated to arrive at the station Friday morning. SpaceX used the launch to make another attempt to land the first stage on a ship in the Atlantic Ocean. Video released by the company showed the stage touched down on the ship, but had enough horizontal velocity that it could not remain upright and toppled over, exploding. SpaceX CEO Elon Musk tweeted that a valve problem may have prevented a successful landing.
Posted: Thu, Apr 16 1:51 PM ET (1751 GMT)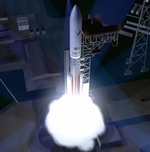 United Launch Alliance released Monday more details about its next-generation launch system, including that it will be named Vulcan. The vehicle, formerly known as the Next Generation Launch System, is designed to replace the company's existing Atlas and Delta launch vehicles. Vulcan will be powered by a BE-4 engine under development by Blue Origin, an engine that could be recovered and reused in later iterations of the design. The rocket will initially use the Centaur upper stage currently used on the Atlas, but will later be replaced with a more powerful design. Vulcan will also be able to accommodate solid rocket boosters, as Atlas and Delta do. Vulcan will initially be available late this decade, at a launch cost the company says will be under $100 million.
Next X-37B launch delayed
Posted: Sat, Apr 11 10:04 AM ET (1404 GMT)
The launch of a classified Air Force spaceplane on its fourth mission has been postponed at least two weeks, officials said Friday. The launch of...