Posted: Sat, Apr 19 7:46 AM ET (1146 GMT)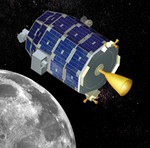 A NASA spacecraft wrapped up a several-month mission to study the Moon's dust environment by crashing into the lunar surface late Thursday. The Lunar Atmosphere and Dust Environment Explorer (LADEE) spacecraft crashed into the lunar surface some time between 9:30 pm and 10:22 pm PDT Thursday (0430 and 0522 GMT Friday), NASA announced Friday, not giving a specific impact location other than the lunar farside. The spacecraft, launched in September, entered lunar orbit in early October on a mission to study the Moon's tenuous atmosphere and dust environment. The spacecraft also performed a test of laser communications, transmitting data at rates of up to 622 Mbps. LADEE completed its primary mission early this year and gradually lowered its orbit at it exhausted its remaining propellant. Engineers plan to refine the impact location based on spacecraft telemetry, then have NASA's Lunar Reconnaissance Orbiter take images of the suspected impact site.
Posted: Fri, Apr 18 6:23 PM ET (2223 GMT)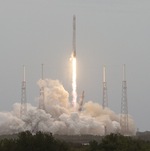 A Falcon 9 rocket successfully launched a Dragon cargo spacecraft Friday on a mission to ferry cargo to the International Space Station (ISS). The Falcon 9 v1.1 lifted off at 3:25 pm EDT (1915 GMT) and released the Dragon cargo spacecraft into low Earth orbit about ten minutes later. There were no technical issues with the countdown and the weather, which had been forecast to be poor, held off long enough for the launch to take place. The Dragon is scheduled to be grappled by the ISS's robotic arm at 7:14 am EDT (1114 GMT) Sunday and be berthed to the station. The launch also allows NASA to proceed with plans to perform a spacewalk on Wednesday to replace a failed backup computer on the station's exterior. The launch was also designed to test the ability of SpaceX to reenter the Falcon 9's first stage and have if softly splashdown in the Atlantic. Initial data indicated that the first phases of reentry went well, but SpaceX was waiting for additional data collected by aircraft. In addition, heavy seas at the landing site hampered efforts by recovery ships to be in position to recover the stage if it did make it to the ocean intact.
Astronomers discover Earth-sized planet in star's habitable zone
Posted: Fri, Apr 18 6:09 AM ET (1009 GMT)
Astronomers announced Thursday the discovery of a planet approximately the size of the Earth orbiting in the habitable zone of its star. The planet, Kepler-...
SS/L to build two JSAT satellites
Posted: Fri, Apr 18 5:48 AM ET (0948 GMT)
Space Systems/Loral (SS/L) has won a contract from a Japanese company to build two direct broadcasting satellites, the companies announced Thursday. SS/L...
Soyuz launches Egyptian satellite
Posted: Thu, Apr 17 6:42 AM ET (1042 GMT)
A Soyuz rocket successfully launched an Egyptian remote sensing satellite on Wednesday. The Soyuz-U rocket lifted off from the Baikonur Cosmodrome at 12:20...