Posted: Tue, Mar 11 5:30 AM ET (0930 GMT)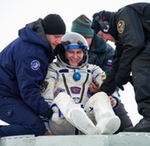 A Soyuz spacecraft carrying two Russian and one American ISS crewmembers landed in Kazakhstan on Tuesday morning. The Soyuz TMA-10M spacecraft landed southeast of Dzhezkazgan, Kazakhstan, at 11:24 pm EDT Monday (0324 GMT, 9:24 am local time Tuesday), nearly three and a half hours after undocking from the ISS. On board the Soyuz were Russian cosmonauts Oleg Kotov and Sergey Ryazanskiy, and American astronaut Mike Hopkins, returning from 166 days in space. Earlier Monday it appeared poor weather conditions would delay the landing, but Russian officials pressed ahead with the landing despite snowy conditions. Three new ISS crewmembers are slated to launch to the ISS from Baikonur on March 25.
Posted: Tue, Mar 11 5:17 AM ET (0917 GMT)
NASA announced Monday that will provide $35,000 in prizes for improved computer algorithms designed to look for asteroids. The competition, being run in cooperation with asteroid mining company Planetary Resources, will award the prizes for the best algorithms developed by "citizen scientists" over the next six months that can detect asteroids in series of astronomical images. The competition is part of the Asteroid Grand Challenge, an agency initiative to detect all the asteroids that pose a potential threat to the Earth.
Japanese astronaut takes command of ISS for the first time
Posted: Mon, Mar 10 5:13 AM ET (0913 GMT)
Japanese astronaut Koichi Wakata took command of the International Space Station on Sunday, marking the first time an astronaut representing Japan has commanded the outpost....
Univ. of Texas to join Giant Magellan Telescope project
Posted: Sat, Mar 8 8:53 AM ET (1353 GMT)
The recent of the University of Texas agreed Friday to join a project to build the world's largest telescope in Chile, agreeing to contribute $...
Hubble observes asteroid breaking apart
Posted: Fri, Mar 7 6:12 AM ET (1112 GMT)
Images from the Hubble Space Telescope reveal an asteroid breaking apart into as many as ten pieces, perhaps due to the subtle influence of the...