Posted: Thu, Dec 24 5:12 PM ET (2212 GMT)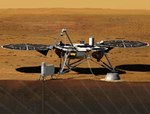 NASA announced Tuesday that it was delaying the launch of its Mars InSight lander mission, previously planned for March, until at least mid-2018 because of problems with one of its key instruments. NASA said continued problems with one of the lander's main instruments, a seismometer supplied by the French space agency CNES, would prevent the mission from launching in March. The instrument experienced a series leaks in its vacuum chamber that would have kept it from working once on Mars, and NASA decided that, after the latest leak was found in testing Monday, the instrument could not be ready in time for launch. The next launch window is in May 2018, but NASA said it would study potential solutions to the instrument problem and their costs before making a decision on when, or even if, to launch the mission.
Posted: Thu, Dec 24 5:03 PM ET (2203 GMT)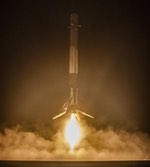 A SpaceX Falcon 9 successfully launched 11 ORBCOMM satellites Monday night, landing the rocket's first stage a few kilometers from its Cape Canaveral launch pad. The upgraded Falcon 9 lifted off at 8:29 pm EST Monday (0129 GMT Tuesday) carrying 11 Orbcomm second-generation satellites. After the second stage separated from the first to deliver the satellites to low Earth orbit, the first stage did a series of engine firings to return to the Cape, making a landing in the middle of the pad at a decommissioned launch site called Landing Zone 1. The landing, the first time SpaceX successfully recovered the rocket's first stage, is a major milestone in the company's efforts to make the vehicle reusable. Orbcomm reported that all 11 satellites were in good health after launch.
NASA astronauts complete brief ISS repair spacewalk
Posted: Thu, Dec 24 4:55 PM ET (2155 GMT)
Two NASA astronauts went outside the International Space Station on Monday to move a stuck cart into its proper position. Astronauts Scott Kelly and Tim...
Progress launches to ISS
Posted: Thu, Dec 24 4:49 PM ET (2149 GMT)
The first of a new generation of Progress cargo spacecraft arrived at the International Space Station early Wednesday, two days after launch. A Soyuz rocket...
SpaceX plans Sunday launch and first stage landing attempt
Posted: Sun, Dec 20 12:21 PM ET (1721 GMT)
SpaceX confirmed Saturday that it plans to launch its upgraded Falcon 9 rocket on Sunday evening, and attempt to land the rocket's first stage...