Posted: Fri, Mar 6 6:23 AM ET (1123 GMT)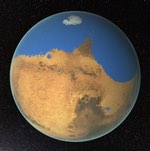 Scientists reported Thursday that Mars, early in its history, likely had an ocean larger than the Arctic Ocean on Earth today. In a paper published in the journal Science, planetary scientists estimated the amount of water Mars once had by measuring the ratio of water in the Martian atmosphere with HDO, where one hydrogen atom is replaced by deuterium, a heavier isotope. Measuring the current ratio of HDO to water and comparing it to that measured in water trapped in an ancient Martian meteorite, scientists were able to determine how much water escaped from Mars since early in its history. That led them to conclude that early Mars had enough water to support an ocean with a volume of 20 million cubic kilometers, larger than the Earth's Arctic Ocean.
Posted: Thu, Mar 5 6:26 AM ET (1126 GMT)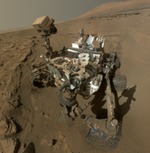 A "transient short circuit" in the Mars rover Curiosity's robotic arm has put operations of the rover on hold while engineers assess the problem, JPL said this week. Curiosity was in the process of transferring samples it collected with instruments on the arm when it experienced the short circuit February 27, triggering fault protection software and halting operations. Engineers are studying the problem to determine exactly where the short circuit took place and how serious the problem is.
UK narrows list of potential spaceport sites
Posted: Wed, Mar 4 6:26 AM ET (1126 GMT)
The British government announced Tuesday it has cut two sites from a list of eight potential locations for a commercial spaceport, but at least two...
Military weather satellite explodes in orbit
Posted: Tue, Mar 3 6:44 AM ET (1144 GMT)
A 20-year-old weather satellite exploded in orbit last month, creating several dozen pieces of debris. Air Force officials confirmed that the Defense Meteorological...
Dawn approaches Ceres
Posted: Tue, Mar 3 6:27 AM ET (1127 GMT)
NASA's Dawn spacecraft is on track to enter orbit around the dwarf planet Ceres at the end of this week, project officials said Monday....