Posted: Fri, Jul 31 2:34 PM ET (1834 GMT)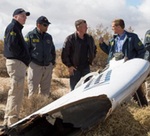 Last October's crash of Scaled Composites' SpaceShipTwo vehicle was caused by pilot error that was not foreseen by the vehicle's developers, the National Transportation Safety Board (NTSB) concluded Tuesday. The NTSB said that the vehicle's copilot prematurely unlocked the feathering system on the vehicle during the October 31 test, and aerodynamic forces caused the feather to deploy as the vehicle accelerated through the sound barrier. Engineers at Scaled Composites, who developed SpaceShipTwo for Virgin Galactic, knew that an early feather deployment would be "catastrophic" for the vehicle but did not consider that the pilots might accidentally unlock the feather early, and thus did not put in safeguards to prevent that from happening. The NTSB made a number of recommendations to the FAA to improve its review of experimental permit applications and make other steps to examine human factors in such vehicles.
Posted: Fri, Jul 31 2:20 PM ET (1820 GMT)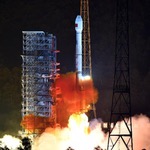 China launched a pair of Beidou navigation satellites July 25. The Long March 3B rocket lifted off from the Xichang Satellite Launch Center at 8:29 am EDT (1229 GMT, 8:29 pm Beijing time) July 25 and placed the two satellites into medium Earth orbit. The satellites are part of the third phase of the country's navigation system, expanding its coverage from its current regional scope to a global one.