Posted: Thu, Sep 18 7:35 AM ET (1135 GMT)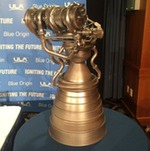 Blue Origin will develop a new hydrocarbon engine for United Launch Alliance that could serve as a replacement for the Russian-manufactured RD-180, the companies announced Wednesday. The companies will jointly fund development of the BE-4, a liquid oxygen/methane engine that produces 2.45 million newtons (550,000 lbf.) of thrust. The engine, which is already under development by Blue Origin, would be ready for full-scale tests in 2016 and first flight in 2019. Two BE-4 engines could replace the RD-180 engine currently used in the first stage of the Atlas 5 rocket, although the companies were vague about how the the engine would be used. The announcement comes after concerns that the supply of RD-180 engines could be cut off because of current tensions with Russia. Congress has proposed funding development of a domestic engine to replace the RD-180, but that could be rendered moot by the ULA-Blue Origin announcement.
Posted: Thu, Sep 18 7:23 AM ET (1123 GMT)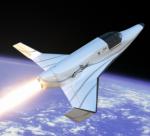 The Midland International Airport in Texas received a spaceport license from the FAA on Wednesday, a major milestone in its efforts to host launches of commercial suborbital vehicles. The airport is the first airport that also hosts scheduled commercial passenger flights to receive a spaceport license. XCOR Aerospace, which is developing the Lynx suborbital vehicle, is planning to move to Midland and fly the Lynx from the airport; receipt of the spaceport license was a key step in that progress. Local officials hope to attract other commercial space firms to the area. With the license in hand, airport officials said Wednesday the airport would now be known as Midland International Air and Space Port.
Atlas 5 launches classified satellite
Posted: Wed, Sep 17 8:41 PM ET (0041 GMT)
An Atlas 5 rocket placed a classified satellite into orbit late Tuesday. The Atlas 5 401 lifted off from Cape Canaveral, Florida, at 8:10...
NASA selects Boeing and SpaceX for commercial crew contracts
Posted: Tue, Sep 16 9:32 PM ET (0132 GMT)
NASA awarded contracts valued at $6.8 billion Tuesday to Boeing and SpaceX to develop vehicles that will transport NASA astronauts to and from the...
NASA report criticizes management of NEO program office
Posted: Tue, Sep 16 9:16 PM ET (0116 GMT)
A NASA office charged with oversight of the agency's efforts to search for near Earth objects (NEOs) lacks the staff and structure to effectively...