Posted: Sat, Jan 31 12:03 PM ET (1703 GMT)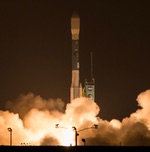 A Delta 2 rocket successfully placed a NASA Earth sciences satellite into orbit Saturday morning. The Delta 2 7320 lifted off from Vandenberg Air Force Base, California, at 6:22 am PST (9:22 am EST, 14022 GMT) Saturday. Its primary payload, the Soil Moisture Active Passive (SMAP) satellite, separated from the rocket's upper stage nearly one hour later, entering a sun-synchronous orbit. The launch was scheduled for Thursday but postposed by gusty upper-level winds, and a Friday attempt was delayed to make minor repairs to the rocket. Upper-levels winds were also high Saturday morning, but subsided in time for the launch. The Delta 2 also deployed four CubeSat-class satellites after the release of SMAP. The SMAP spacecraft is designed to provide global measurements of soil measure for weather, climate, and related Earth science applications.
Posted: Sat, Jan 31 8:09 AM ET (1309 GMT)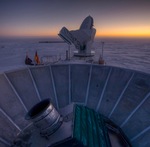 A joint analysis of data from a groundbased telescope and a European spacecraft has ruled out the detection of primordial gravitational waves that a team of astronomers announced last year. The European Space Agency said that astronomers, jointly analyzing data from ESA's Planck spacecraft as well as the groundbased BICEP2 experiment, could not confirm the detection of gravitational waves in the cosmic microwave background previously reported by the BICEP2 team in 2014. The polarized light detected by BICEP2 can be explained by the presence of interstellar dust, astronomers concluded, and thus is not evidence of gravitational waves. Astronomers had been looking for such waves as evidence of cosmic inflation in the instant after the Big Bang.
Delta 2 SMAP launch postponed to Saturday
Posted: Fri, Jan 30 6:19 AM ET (1119 GMT)
After a one-day delay due to weather, NASA and United Launch Alliance have delayed the Delta 2 launch of an Earth sciences satellite an...
Air Forces cancels competition for EELV-class launch
Posted: Fri, Jan 30 6:10 AM ET (1110 GMT)
The US Air Force canceled a competition between SpaceX and United Launch Alliance for the launch of a classified satellite this week, awarding the launch...
Winds postpone Delta 2 launch a day
Posted: Thu, Jan 29 8:37 PM ET (0137 GMT)
High upper level winds forced launch controllers to postpone the launch of a NASA Earth sciences satellite by a day. The Delta 2 7320 was...