Posted: Sat, May 18 10:02 AM ET (1402 GMT)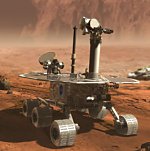 A nine-year-old Mars rover has broken the NASA record for the longest distance driven on the surface of another world. NASA announced this week that the Opportunity Mars rover has now driven 35.76 kilometers, breaking the previous record of 35.744 kilometers set by the Apollo 17 lunar rover in 1972. Opportunity broke the record as it set out on a multi-week trek from the Cape York section of the rim of Endeavour Crater, where the rover had been working since mid-2011, to a point 2.2 kilometers away called Solander Point. The rover, which has been on the Martian surface since January 2004, remains in good condition. The record for the longest distance driven by any vehicle on another world belongs to the Soviet robotic rover Lunokhod 2, which drove 37 kilometers on the Moon in 1973.
Posted: Wed, May 1 5:10 AM ET (0910 GMT)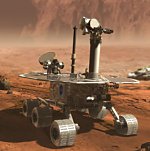 Communications with the Mars Exploration Rover Opportunity resumed this week with the discovery that the veteran spacecraft was in "a type of standby mode," JPL reported. Communications resume on April 27 after a month-long hiatus due to solar conjunction, and controllers found Opportunity in a state called automode. Engineers believe the rover detected a problem of some kind during atmospheric observations on April 22. Controllers planned to send commands to the rover this week to take it out of that standby mode and resume normal operations. Opportunity has been on Mars for over nine years, and remains in good condition. Operations of the Curiosity rover, which landed last August, are also expected to resume this week.
Mars images show evidence for Soviet-era lander
Posted: Fri, Apr 12 9:35 AM ET (1335 GMT)
Space enthusiasts coming through images from a NASA orbiter have found evidence of what they believe is a 1970s Soviet spacecraft that lost contact immediately...
Curiosity rover resumes science operations
Posted: Thu, Mar 28 6:34 AM ET (1034 GMT)
NASA's Mars rover Curiosity resumed science operations this week after overcoming some technical problems, but will soon go on hiatus because of a break...
Curiosity suffers another computer glitch
Posted: Tue, Mar 19 5:28 AM ET (0928 GMT)
NASA's Curiosity Mars rover is again in safe mode after another problem with its computers, but should resume normal operations in a few days,...