Posted: Sun, Jun 29 8:58 AM ET (1258 GMT)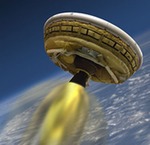 NASA declared Saturday's test flight of a Mars reentry technology demonstrator a success although the vehicle's parachute failed to fully open. The Low Density Supersonic Decelerator (LDSD) lifted off on a balloon from the Hawaiian island of Kauai at 2:41 pm EDT (1841 GMT) Saturday, raising to an altitude of more than 35 kilometers. At 5:05 pm EDT (2105 GMT), the LDSD separated from the balloon and ignited its rocket engine, accelerating to Mach 4 and an altitude of 55 kilometers. While one of the key technologies being tested by LDSD, an inflatable ballute designed to slow the vehicle down, did appear to work, another key system, a large parachute, failed to open fully. Project officials still declared the mission a success since the primary objective for this flight was to test the technologies for getting LDSD to the desired velocities and altitudes. Two additional LDSD test flights are planned, with the next in mid-2015. NASA hopes LDSD will successfully test technologies that can eventually be used to land large spacecraft on the surface of Mars.
Posted: Wed, Jun 25 9:46 AM ET (1346 GMT)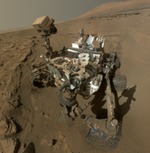 NASA's Mars rover Curiosity has now spent a full Martian year on the surface of the planet, achieving its primary mission goal, NASA said this week. Curiosity had been on the surface of Mars for 687 days, one Martian year, as of Tuesday. That milestone marked the completion of the rover's primary mission, which NASA said it successfully achieved by determining that the planet once had conditions hospitable for life. The rover had also made scientific findings in a number of areas, including measuring the radiation environment on the Martian surface and detecting extremely little methane in the planet's atmosphere, contrary to some other studies of the planet's atmosphere. While the primary mission of Curiosity is complete, scientists plan to continue operating the rover for several more years, driving it up the slopes of Aeolis Mons, or Mout Sharp, the mountain in the center of Gale Crater.
Winds delay test of Mars reentry technology
Posted: Fri, Jun 13 7:07 AM ET (1107 GMT)
A persistent, unseasonal pattern of high winds has delayed a planned test of a Mars reentry technology demonstrator until at least late this month, project...
Report calls for new approach for sending humans to Mars
Posted: Thu, Jun 5 9:50 AM ET (1350 GMT)
A report by a Congressionally-mandated committee released Wednesday reaffirmed Mars as the long-term destination of human space exploration, but concluded NASA's current...
Mars InSight lander passes critical design review
Posted: Wed, May 21 7:58 AM ET (1158 GMT)
NASA's next Mars lander mission passed a key review last week, clearing the way for construction of the spacecraft to begin, NASA announced Monday....