Posted: Fri, Sep 12 6:13 AM ET (1013 GMT)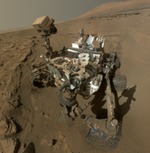 NASA announced Thursday that the Mars rover Curiosity has arrived at the base of a Martian mountain that it will soon start to climb. The rover is at an entry point to the lower slopes of a mountain officially known as Aeolis Mons, but widely referred to as Mount Sharp, in the center of Gale Crater. Curiosity will take a different, and more direct. route up the lower slopes of the mountain that previously planned because of more promising geological features expected on the new route. Ascending Mount Sharp has long been a goal of Curiosity, which landed in the floor of Gale Crater in August 2012. NASA also defended the scientific plan for the mission after a recent senior review of ongoing planetary missions criticized the mission's plans for the next two years.
Posted: Sat, Sep 6 2:14 PM ET (1814 GMT)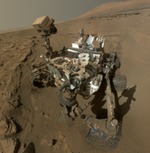 A review of ongoing planetary science missions released this week recommended that all missions it considered be continued, but criticized NASA's flagship Mars rover for not having a stronger science case. The planetary science "senior review" recommended that seven missions that have already completed their primary missions be continued: Cassini, Lunar Reconnaissance Orbiter (LRO), Opportunity, Mars Reconnaissance Orbiter, the NASA contribution to ESA's Mars Express, Mars Odyssey, and Curiosity. However, Curiosity came in last in the rankings by the senior review committee, which criticized the mission for not offering a compelling science case for the mission as well as not appearing to take the review process seriously. NASA has asked the Curiosity team, in response to the review's findings, to revamp its science plan for the next two years. The panel recommended only minor changes to other missions, including turning off a radar instrument on LRO.
NASA to reformat Mars rover Opportunity's memory
Posted: Wed, Sep 3 12:58 PM ET (1658 GMT)
NASA is making plans to reformat the flash memory on the rover Opportunity in response to an increasing number of computer resets the aging rover...
NASA announces science payload for Mars 2020 rover
Posted: Fri, Aug 1 7:36 AM ET (1136 GMT)
NASA revealed on Thursday the scientific instruments it plans to include on a 2020 Mars rover mission that will also collect samples for later return...
Test of Mars reentry technology a qualified success
Posted: Sun, Jun 29 8:58 AM ET (1258 GMT)
NASA declared Saturday's test flight of a Mars reentry technology demonstrator a success although the vehicle's parachute failed to fully open. The Low...