Posted: Sat, Dec 31 10:51 AM ET (1551 GMT)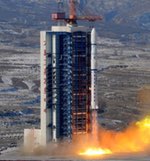 Two Chinese satellites placed in the wrong orbit after a launch earlier this week are raising their orbits. The two SuperView-1 Earth imaging spacecraft, launched Wednesday morning Beijing time on a Long March 2D, were placed in elliptical orbits with a perigee much lower than planned. Tracking data indicates that the two satellites are raising their orbits, likely using their own thrusters. A small student-built satellite also flown on the rocket remains in that original elliptical orbit. Neither the satellites' owner nor other Chinese officials have commented on the apparent problem with the rocket that left the satellites in the wrong orbit.
Posted: Sat, Dec 31 10:50 AM ET (1550 GMT)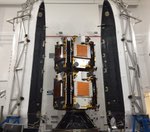 The return to flight of SpaceX's Falcon 9 grows closer as its payload of satellites is prepared for launch. Iridium released a photo Thursday of 10 Iridium Next satellites being encapsulated in the Falcon 9's payload fairing at Vandenberg Air Force Base, a step usually taken relatively close to a scheduled launch. That launch, the first since a Sept. 1 pad explosion destroyed a Falcon 9 and its satellite payload, is tentatively scheduled for Jan. 7, pending the outcome of an investigation into the explosion and the FAA's issuance of a commercial launch license for the mission.
Proton launch of EchoStar-21 delayed
Posted: Sat, Dec 31 10:49 AM ET (1549 GMT)
The latest delay in the Proton launch of EchoStar 21 is not related to an earlier problem with the rocket. International Launch Services confirmed Wednesday...
NASA chief scientist departs
Posted: Sat, Dec 31 10:48 AM ET (1548 GMT)
NASA's chief scientist is leaving the agency after more than three years on the job. Ellen Stofan left NASA this month "for new adventures,"...
Astronomer Vera Rubin passes away
Posted: Sat, Dec 31 10:47 AM ET (1547 GMT)
Vera Rubin, a pioneering astronomer who discovered evidence for the existence of dark matter, died Dec. 25. Rubin, 88, spent much of her career at...