Posted: Sat, Mar 3 2:11 PM ET (1911 GMT)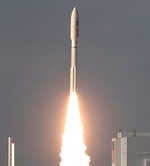 A next-generation weather satellite is in orbit after a successful launch Thursday afternoon. An Atlas 5 lifted off from Cape Canaveral, Florida, on schedule at 5:02 p.m. Eastern and released the GOES-S weather satellite into geostationary transfer orbit about three and a half hours later. GOES-S, which will be renamed GOES-17, will enter service later this year at 135 degrees west in GEO. It is the second in a new generation of four weather satellites that provide a "quantum leap" in weather monitoring and forecasting abilities.
Posted: Sat, Mar 3 2:08 PM ET (1908 GMT)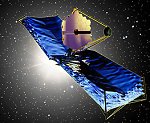 A GAO report warns that NASA's James Webb Space Telescope likely faces additional delays and could bust its $8 billion cost cap. The GAO, in a report released Wednesday, found that the program has only a month and a half of schedule reserve even after a launch slip last year from October 2018 to the spring of 2019. This makes it likely that the launch will be delayed again beyond June 2019. Issues with the observatory's spacecraft and sunshield have contributed to the latest delays. The GAO said that those additional delays, and the additional personnel prime contractor Northrop Grumman has assigned to the program, could cause the mission's development cost to exceed a cap of $8 billion set by Congress in 2011.
Soyuz returns crew to Earth
Posted: Sat, Mar 3 2:03 PM ET (1903 GMT)
A Soyuz capsule carrying three ISS crew members landed in Kazakhstan Tuesday night. The Soyuz MS-06 landed near Dzhezkazgan, Kazakhstan, on schedule at 9:...
Stratolaunch aircraft conducts taxi tests
Posted: Sat, Mar 3 1:57 PM ET (1857 GMT)
Stratolaunch's giant aircraft is one step closer to its first flight after a new round of taxi tests. The company said Monday that it...
H-2A launches reconnaissance satellite
Posted: Sat, Mar 3 1:52 PM ET (1852 GMT)
Japan launched a reconnaissance satellite late Monday night. An H-2A rocket lifted off from the Tanegashima Space Center at 11:34 p.m. Eastern...