Posted: Sun, Nov 10 8:01 AM ET (1301 GMT)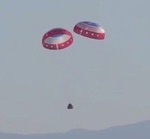 Boeing says a misplaced pin prevented one of three parachutes from deploying during a pad abort test of its CST-100 Starliner commercial crew vehicle Monday. In a call with reporters Thursday, Boeing said a pin connecting a pilot parachute with a main parachute was not properly installed, preventing the pilot chute from deploying the main one. Technicians have already worked to confirm that similar pins are properly installed on the parachutes in the Starliner scheduled to launch an uncrewed test flight next month. Boeing said an initial review of the data from that test confirmed that all other aspects of the flight went as planned.
Posted: Sun, Nov 10 7:57 AM ET (1257 GMT)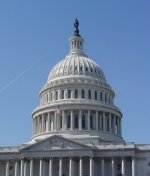 A bipartisan group of senators introduced a NASA authorization bill Wednesday that would extend the life of the International Space Station. The bill, whose lead sponsor is Sen. Ted Cruz (R-Texas), would authorize ISS operations to be extended from 2024 to 2030, while directing NASA to assist increased commercial activities in low Earth orbit. The bill also supports the ISS by extending a waiver to sanctions under the Iran, North Korea and Syria Nonproliferation Act so that the agency can continue to work with Russia through 2030. The bill directs NASA to have the Block 1B version of the Space Launch System ready by the third flight of the rocket, a faster timetable than NASA currently plans. The bill authorizes several programs and missions, from NASA's education office to the WFIRST astronomy mission, than NASA has sought to cancel. The Senate Commerce Committee will mark up the bill next Wednesday.
Boeing offers SLS-launched lunar lander for NASA
Posted: Sun, Nov 10 7:54 AM ET (1254 GMT)
Boeing announced Tuesday it's proposing a lunar lander for NASA that could be launched on the Space Launch System. The company's "Fewest Steps...
UK Space Agency to fund spaceport improvements for Virgin Orbit
Posted: Sun, Nov 10 7:49 AM ET (1249 GMT)
The UK Space Agency will provide £7.35 million ($9.5 million) to fund improvements at a British airport that seeks to host Virgin Orbit...
China launches navigation satellite
Posted: Sun, Nov 10 7:48 AM ET (1248 GMT)
China launched a navigation satellite Monday. A Long March 3B lifted off at 12:43 pm EST (1773 GMT, 1:43 am Tuesday Beijing time),...