Posted: Sun, Jul 8 9:43 AM ET (1343 GMT)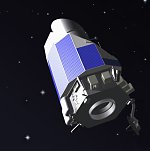 NASA's Kepler spacecraft has paused science observations upon receiving indications that the spacecraft may be finally running out of fuel after more than nine years of operations. The agency said Friday that it placed Kepler into a "no-fuel-use" safe mode four days earlier after detecting an anomalous drop in pressure in the spacecraft's hydrazine thrusters. Those thrusters are used to point the spacecraft after the failure of two of its four reaction control wheels earlier in the mission. Kepler will remain in this safe mode until August 2, when it will downlink data it collected during its latest campaign. Mission managers will then decide if the spacecraft can continue operations.
Posted: Sun, Jul 8 9:42 AM ET (1342 GMT)
Inmarsat has rejected a second takeover proposal from EchoStar hours before a deadline Friday. EchoStar proposed a deal that valued Inmarsat's equity at $3.2 billion, or $4.2 billion when including convertible bonds. Inmarsat said the proposal "very significantly undervalued" the company. EchoStar is now required to wait six months under British regulations before making another bid. Eutelsat had also shown an interest in Inmarsat last month, but decided at the time not to pursue a bid.
Shuttle-era engine tested for DARPA spaceplane
Posted: Sun, Jul 8 9:41 AM ET (1341 GMT)
A shuttle-era engine is undergoing a series of daily test firings to demonstrate its suitability for a DARPA spaceplane program. Aerojet Rocketdyne's AR-...
Opportunity remains silent as Martian dust storm continues
Posted: Sun, Jul 8 9:41 AM ET (1341 GMT)
NASA's Opportunity Mars rover remains silent nearly a month after a dust storm cut off contact with the spacecraft. Regular listening sessions by NASA'...
Dawn flies close to Ceres as mission approaches end
Posted: Sun, Jul 8 9:40 AM ET (1340 GMT)
NASA's Dawn spacecraft, nearing the end of its mission, has dipped very close to the surface of Ceres. The spacecraft used its ion engine...