Posted: Thu, May 28 10:05 AM ET (1405 GMT)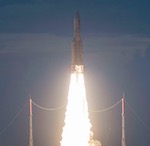 An Ariane 5 successfully launched two direct TV broadcasting satellites for DIRECTV and a Mexican affiliate Wednesday. The Ariane 5 ECA lifted off on schedule at 5:16 pm EDT and placed the DIRECTV 15 and SKYM-1 satellites into geosynchronous transfer orbit. The 6,200-kilogram DIRECTV, built by Airbus Defence and Space, will be used by DIRECTV to broadcast television programming, including in ultra-high-definition 4K format, for customers in the US. SKYM-1, built by Orbital ATK and weighing 3,000 kilograms at launch, will be used by SKY Mexico at 78.8 degrees west for high-definition television services in Mexico, Central America, and the Caribbean. The launch was the second Ariane 5 mission in 2015.
Posted: Wed, May 27 10:29 AM ET (1429 GMT)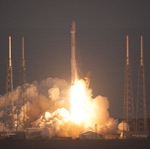 The US Air Force said Tuesday it has completed the certification of SpaceX's Falcon 9 rocket, allowing the company to compete for at least some military launches. The certification process, which took two years and created some tensions between the Air Force and SpaceX, means that the service has approved the use of the Falcon 9 for launching military satellites. With the Falcon 9 now certified, SpaceX can compete for launch contracts, including a series of next-generation GPS satellites later this year. The Air Force said it spent more than $65 million certifying the Falcon 9; SpaceX did not disclose how much it spent on its share of activities.
NASA selects instruments for Europa mission
Posted: Wed, May 27 10:24 AM ET (1424 GMT)
NASA announced Tuesday it has selected nine instruments it plans to include on a planned mission to Jupiter's moon Europa in the 2020s. The...
House passes commercial space bill
Posted: Fri, May 22 8:36 AM ET (1236 GMT)
The House of Representatives passed a bill Thursday containing a number of commercial space policy provisions. The House approved the SPACE Act on a 284-...
Dragon returns to Earth
Posted: Thu, May 21 8:00 PM ET (0000 GMT)
A SpaceX Dragon spacecraft departed from the International Space Station early Thursday and splashed down in the Pacific Ocean several hours later. The Dragon spacecraft,...