Posted: Mon, Aug 12 4:03 PM ET (2003 GMT)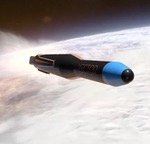 Small launch vehicle company Vector suspended operations and replaced its CEO Friday because of financial problems. In a statement late Friday, the company said that because of a "significant change in financing," the company was pausing operations. The company also said that founding CEO Jim Cantrell left the company, replaced by John Garvey. The announcements came after reports, including social media postings, that the company had closed its three offices, affecting at least 150 employees. Vector is one of dozens of companies working on small launch vehicles and had raised about $100 million to date, but had yet to attempt an orbital launch of its Vector-R rocket. The company won an Air Force contract last week for a launch of several smallsats in 2021.
Posted: Mon, Aug 12 4:00 PM ET (2000 GMT)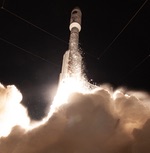 An Atlas 5 lifted off early Thursday morning carrying a military communications satellite. The United Launch Alliance Atlas 5 551 launched from Cape Canaveral, Florida, at 6:13 am EDT (1013 GMT), about a half-hour into a two-hour launch window after resolving some minor technical issues. The rocket's payload, the AEHF-5 spacecraft, wase released from the Centaur upper stage five hours and 40 minutes after liftoff, following a final burn by the Centaur. The 6,500-kilogram AEHF-5 completes a geostationary ring of five satellites providing global coverage for the United States and international partners Canada, the Netherlands and the United Kingdom.
Ariane 5 launches two communications satellites
Posted: Mon, Aug 12 3:58 PM ET (1958 GMT)
An Ariane 5 successfully launched two communications satellites Tuesday. The Ariane 5 took off at 3:30 pm EDT (1930 GMT) from Kourou, French Guiana,...
Falcon 9 launches Israeli communications satellite
Posted: Mon, Aug 12 3:57 PM ET (1957 GMT)
SpaceX placed an Israeli satellite into orbit Tuesday. The Falcon 9 lifted off from Cape Canaveral Air Force Station in Florida at 7:23 pm...
Rocket Lab will attempt to reuse Electron first stage
Posted: Mon, Aug 12 3:56 PM ET (1956 GMT)
Rocket Lab announced Tuesday that it will attempt to recover and reuse the first stage of its Electron rocket. The company has already started work...