Posted: Sun, Nov 5 10:16 AM ET (1516 GMT)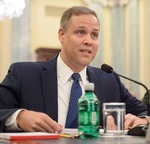 NASA Administrator nominee Jim Bridenstine faced sharp criticism from Democratic senators at his confirmation hearing Wednesday. The committee's ranking member, Sen. Bill Nelson (D-FL), and other Democrats questioned Bridenstine about his views on climate change, social issues, and competence to lead NASA during the hearing, which lasted more than two and a half hours. Bridenstine got a friendlier reception from the committee's Republican majority, but very few of the questions he received during the hearing directly related to NASA programs outside of Earth science. The committee is planning a markup session next Wednesday to vote to advance the nomination, and committee chairman Sen. John Thune (R-SD) says he believes that Bridenstine will ultimately be confirmed.
Posted: Sun, Nov 5 10:14 AM ET (1514 GMT)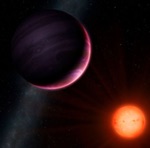 Astronomers announced this week the discovery of a planet the size of Jupiter orbiting a star just half the size of the Sun. The planet NGTS-1b orbits an M-dwarf star 600 light-years from the Earth, completing one orbit in just two and a half days. The discovery is puzzling to astronomers because models of solar system formation don't predict the formation of planets as large as NGTS-1b around a star as small as thus one. Astronomers made the discovery with the Next-Generation Transit Survey, a new array of telescopes operated by several universities in Europe and South America.
Chairman of House Science Committee to retire
Posted: Sun, Nov 5 10:13 AM ET (1513 GMT)
The chairman of the House Science Committee announced Thursday he will retire at the end of his term. Rep. Lamar Smith (R-Texas) said he...
Minotaur-C launches ten satellites for Planet
Posted: Sun, Nov 5 10:12 AM ET (1512 GMT)
An Orbital ATK Minotaur-C rocket successfully launched 10 satellites for Planet Tuesday afternoon. The rocket lifted off on schedule at 5:37 pm EDT (...
SpaceX launches South Korean communications satellite
Posted: Sun, Nov 5 10:11 AM ET (1511 GMT)
SpaceX launched a Korean communications satellite Monday, tying a record set by a competitor in the process. The Falcon 9 lifted off on schedule at...