Posted: Sun, Jan 14 5:44 PM ET (2244 GMT)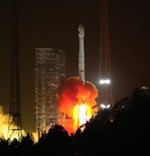 China launched a pair of Beidou navigation satellites Thursday. The Long March 3B rocket lifted off from the Xichang Satellite Launch Center at 6:18 pm EST (2318 GMT) and placed the two satellites into medium Earth orbits. The satellites are part of an effort by China to complete a constellation of satellites providing navigation services globally by 2020.
Posted: Sun, Jan 14 5:43 PM ET (2243 GMT)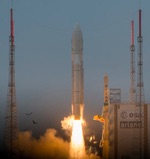 Arianespace expects to carry out a record number of launches in 2018. The company announced Tuesday it's planning 14 launches this year, including seven Ariane 5, four Soyuz and three Vega missions. Arianespace announced Tuesday that it signed a contract with Intelsat for two launches, including of the Galaxy-30 communications satellite Intelsat ordered from Orbital ATK earlier this week. Arianespace also said it's placed an order for a final batch of 10 Ariane 5 rockets that will cover launches into the early 2020s as the new Ariane 6 rocket enters service.
Orbital ATK wins Galaxy 30 order
Posted: Sun, Jan 14 5:42 PM ET (2242 GMT)
Intelsat has ordered a satellite from Orbital ATK to begin a partial replenishment of its Galaxy fleet. The Galaxy 30 satellite, slated for launch in...
China launches two SuperView satellites
Posted: Sun, Jan 14 5:40 PM ET (2240 GMT)
A Long March rocket launched two commercial imaging satellites late Monday. The Long March 2D rocket lifted off from the Taiyuan Satellite Launch Center at...
Fate of Zuma payload unknown after Falcon 9 launch
Posted: Sun, Jan 14 5:39 PM ET (2239 GMT)
A classified payload launched on a Falcon 9 January 7 is rumored to have been lost. The Falcon 9 lifted off at 8:00 pm...