Posted: Sun, Sep 16 10:41 AM ET (1441 GMT)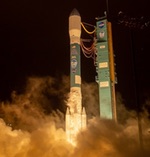 A Delta 2 successfully launched a NASA Earth science satellite Saturday in the final launch for the venerable rocket. The Delta 2 7420-10 lifted off from Vandenberg Air Force Base in California at 9:02 am EDT (1302 GMT), after a brief delay to resolve a minor technical problem. The rocket placed NASA's Ice, Cloud and land Elevation Satellite-2 (ICESat-2), and also deployed four cubesat secondary payloads. ICESat-2 is equipped with a laser altimeter instrument designed primarily to measure changes in the Earth's polar ice caps and other changes in ice cover worldwide. The launch was the 155th and final launch of the Delta 2, which first launched in 1989, and the 100th consecutive successful launch of the vehicle.
Posted: Sun, Sep 16 10:40 AM ET (1440 GMT)
A technical problem with an H-2B rocket has postponed the launch of a Japanese cargo spacecraft to the International Space Station for an extended period. The launch, which was scheduled for Friday at about 5:00 pm EDT (2100 GMT) was scrubbed shortly before the scheduled launch time because of an unspecified problem with the rocket's propulsion system. No new launch date has been set, and an official with rocket manufacturer MHI said a "rather serious issue" caused the scrub. Weather delayed the launch from earlier in the week. The rocket is carrying the HVT-7 cargo spacecraft with more than six tons of supplies for the ISS.
SpaceX to announce new plans for circumlunar trip
Posted: Sun, Sep 16 10:39 AM ET (1439 GMT)
SpaceX will announce plans September 17 to send someone around the moon on its BFR vehicle. In a pair of tweets late Thursday, the company...
Lockheed Martin wins order for GPS 3 satellites
Posted: Sun, Sep 16 10:38 AM ET (1438 GMT)
The Air Force has awarded a contract worth $7.2 billion to Lockheed Martin to produce the next batch of GPS 3 satellites. The contract,...
NASA and Roscosmos heads to meet next month
Posted: Sun, Sep 16 10:37 AM ET (1437 GMT)
NASA Administrator Jim Bridenstine will meet his Russian counterpart in person next month. In a rare joint statement, NASA and Roscosmos confirmed earlier Russian statements...