Posted: Fri, Jul 24 1:51 PM ET (1751 GMT)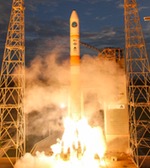 A Delta 4 rocket successfully launched the seventh in a series of military communications satellites on Thursday. The Delta 4 Medium-Plus (5,4) lifted off on schedule at 8:07 pm EDT Thursday (0007 GMT Friday) and placed the Wideband Global SATCOM (WGS) 7 satellite into a geostationary transfer orbit a little more than 40 minutes later. The Boeing-built WGS-7 satellite will provide military communications services at X- and Ka-band frequencies. The launch was postponed from Wednesday because of weather. The launch was also the first medium-class Delta 4 to use the upgraded RS-68A main engine in its first stage.
Posted: Fri, Jul 24 1:35 PM ET (1735 GMT)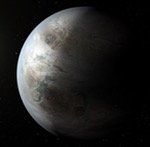 Astronomers announced Thursday the discovery of a "bigger, older" cousin of the Earth orbiting a distant star, making the planet the closest analog found to date of the Earth. The planet, Kepler-452b, orbits a Sun-like star 1,400 light-years from the Earth in its habitable zone. The planet is about 60 percent larger than the Earth, and scientists estimate it may weight about five times the Earth, but acknowledge they have no information on the planet's mass or composition, or if the planet could be hospitable to life. The planet, though, is the most similar to the Earth found to date in terms of its size, orbit, and the type of star it is orbiting, raising the prospects that many more such planets exist in the galaxy.
Soyuz sends new crew to the ISS
Posted: Thu, Jul 23 4:38 PM ET (2038 GMT)
A Soyuz spacecraft with three people on board docked with the International Space Station Wednesday night, nearly six hours after its launch from Kazakhstan. A...
SpaceX blames launch failure on faulty strut
Posted: Wed, Jul 22 8:34 AM ET (1234 GMT)
SpaceX said Monday that the failure last month of a Falcon 9 rocket on a cargo mission to the International Space Station was caused by...
Russian billionaire to fund $100-million SETI effort
Posted: Wed, Jul 22 8:24 AM ET (1224 GMT)
A Russian billionaire announced Monday he will provide $100 million over the next ten years to support the most extensive effort yet in the search...