Posted: Sun, Oct 22 11:28 AM ET (1528 GMT)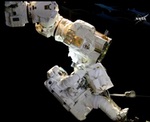 Two NASA astronauts performed the third and final in a series of spacewalks Friday to make repairs and upgrades to the International Space Station. Astronauts Randy Bresnik and Joe Acaba sent six hours and 49 minutes outside the ISS Friday, completing all their primary tasks, including replacement of a fuse in part of the station's robotic arm system and installation of a new HD camera. The spacewalk was the third in the span of 15 days outside the station to perform a set of repairs and other maintenance to exterior elements of the station.
Posted: Sun, Oct 22 11:26 AM ET (1526 GMT)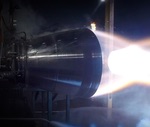 Blue Origin said Thursday it has successfully performed the first test of its BE-4 engine. The company released few technical details about the hotfire test of the liquid oxygen/liquefied natural gas engine beyond that they considered the test a success. Blue Origin is developing the BE-4 engine for its New Glenn orbital launch vehicle, and has also offered it to United Launch Alliance for its Vulcan rocket. ULA executives have previously indicated the BE-4 was their preferred choice, provided it successfully completed a series of tests such as this.
Iridium to use previously-flown Falcon 9 stages on upcoming launches
Posted: Sun, Oct 22 11:24 AM ET (1524 GMT)
Iridium will launch its next two sets of next-generation satellites on Falcon 9 rockets with previously flown first stages. Iridium had planned to use...
Spacecom selects SpaceX for satellite launches
Posted: Sun, Oct 22 11:23 AM ET (1523 GMT)
Spacecom will launch its next satellite on a Falcon 9, with an option for a second mission, despite losing a satellite in a pad explosion...
Second set of COSMIC-2 satellites cancelled
Posted: Sun, Oct 22 11:22 AM ET (1522 GMT)
NOAA and Taiwan's science ministry have cancelled plans to develop a second set of next-generation GPS radio occultation weather satellites. NOAA and the...