Posted: Tue, Jun 21 9:40 AM ET (1340 GMT)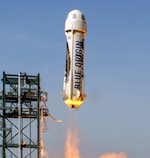 Blue Origin launched its New Shepard suborbital vehicle on its fourth consecutive successful flight June 19. The vehicle lifted off from its West Texas test site at 10:36 am EDT (1436 GMT) and both its propulsion module and crew capsule landed safely less than 10 minutes later. The vehicle reached a peak altitude of about 101 kilometers on the flight, the fourth since November. The uncrewed test demonstrated the ability of the capsule to land with only two of its three parachutes open. The company also for the first time webcast the flight live.
Posted: Tue, Jun 21 9:38 AM ET (1338 GMT)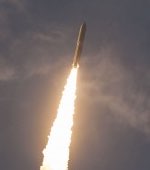 An Ariane 5 successfully launched two communications satellites June 18 after several delays. The rocket launched from Kourou, French Guiana, at 5:40 pm EDT (2140 GMT), at the end of its launch window because of launch site issues. High winds scrubbed a launch attempt Friday. The Ariane placed into geostationary transfer orbit the EchoStar 18 and BRIsat satellites, both built by Space Systems Loral for EchoStar and BRI Bank of Indonesia, respectively. The combined mass of the payload, 9,503 kilograms, set a new record for the vehicle.
Soyuz returns three ISS crew to Earth
Posted: Tue, Jun 21 9:36 AM ET (1336 GMT)
A Soyuz spacecraft carrying three International Space Station crewmembers returned to Earth early June 18. The Soyuz TMA-19M spacecraft landed in Kazakhstan at 5:...
Antares return to flight slips to August
Posted: Tue, Jun 21 9:35 AM ET (1335 GMT)
The return to flight of Orbital ATK's Antares launch vehicle is likely to slip to August. The company said June 16 that it is...
Falcon 9 launches two commercial satellites, but landing fails
Posted: Tue, Jun 21 9:34 AM ET (1334 GMT)
SpaceX successfully launched two communications satellites June 15, but failed to land the first stage. The Falcon 9 lifted off on schedule from Cape Canaveral...