Posted: Sat, Jul 20 10:25 AM ET (1425 GMT)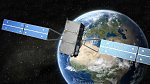 Europe's Galileo satellite navigation system is back in service after an extended outage. The European Global Navigation Satellite Systems Agency said Thursday that it had restored service after a six-day outage caused by a problem with ground stations that provide precise timing information. Although Galileo had yet to start full operations, the outage had caused frustrations among those using, or were planning to use, the service, in part because of the lack of information about the problem and when service would be restored.
Posted: Sat, Jul 20 10:24 AM ET (1424 GMT)
NASA Administrator Jim Bridenstine says he won't rule out a first human mission to Mars in 2033. Bridenstine said in a call with reporters Monday that the agency is studying how its accelerated return to the moon can pull forward plans for human missions to Mars. An independent report earlier this year concluded that a 2033 Mars mission, a goal set by some in the space community and in Congress, was not feasible, but Bridenstine said the report's assumptions, which used NASA's exploration architecture, may not be accurate. NASA has placed a new emphasis on its long-term Mars plans since a tweet by President Trump in June that appeared to criticize NASA for talking too much about going back to the moon.
SpaceX blames Crew dragon accident on faulty valve
Posted: Sat, Jul 20 10:23 AM ET (1423 GMT)
SpaceX said Monday that an accident in April that destroyed a Crew Dragon spacecraft during ground tests was caused by a faulty valve. The ongoing...
Russia launches astronomy satellite
Posted: Sun, Jul 14 4:18 PM ET (2018 GMT)
A Proton rocket successfully launched a long-delayed X-ray astronomy spacecraft Saturday. The Proton lifted off from the Baikonur Cosmodrome at 8:30 a....
Vega launch of UAE satellite fails
Posted: Sun, Jul 14 4:17 PM ET (2017 GMT)
A Vega rocket carrying an Emirati satellite failed minutes after liftoff Wednesday night. The Vega rocket lifted off from Kourou, French Guiana, at 9:53...