Posted: Sun, Jul 16 9:02 AM ET (1302 GMT)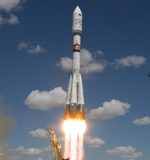 A Soyuz rocket launched a remote sensing satellite and 72 secondary payloads July 14, a record for that launch vehicle. The Soyuz lifted off at 2:36 am EDT (0636 GMT) from the Baikonur Cosmodrome in Kazakhstan. Its primary payload, the Kanopus-V-IK remote sensing satellite, released from the upper stage about an hour after liftoff, and 72 smallsat secondary payloads separated over the next seven hours. Those payloads included 48 cubesats for Planet to complete its initial Earth imaging constellation, as well as spacecraft for Astro Digital, GeoOptics, and Spire. It also carried satellites for the Russian government and universities as well as several other countries. The 73 total satellites on the rocket was a record for the Soyuz, and second only to an Indian PSLV that launched more than 100 satellites in February.
Posted: Sun, Jul 16 9:00 AM ET (1300 GMT)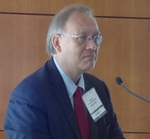 The White House announced July 13 it will appoint Scott Pace as the executive secretary of the National Space Council. Pace is currently the director of the Space Policy Institute at George Washington University, and previously worked at NASA, OSTP, and other government agencies on space issues. The executive secretary runs the council, chaired by the vice president, on a day-to-day basis. Vice President Mike Pence said earlier this month he expects to hold the first meeting of the council by the end of the summer.
House passes defense bill with Space Corps provision
Posted: Sun, Jul 16 8:59 AM ET (1259 GMT)
The House of Representatives passed a defense bill July 13 that retains language requiring the Air Force to establish a Space Corps. The National Defense...
Moon Express unveils plans for series of lunar lander missions
Posted: Sun, Jul 16 8:58 AM ET (1258 GMT)
Moon Express says it is still planning to launch its first commercial lunar lander mission by the end of this year. The company unveiled new...
Former astronaut named Canada's governor general
Posted: Sun, Jul 16 8:56 AM ET (1256 GMT)
Former Canadian astronaut Julie Payette will be the country's next governor general. Prime Minister Justin Trudeau announced July 13 that Payette will take the...