Posted: Sun, Nov 18 8:19 AM ET (1319 GMT)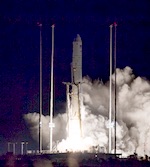 An Antares rocket placed a Cygnus cargo spacecraft into orbit Saturday after two days of weather delays. The Northrop Grumman Antares rocket lifted off at 4:01 am EST (0901 GMT) Saturday from the Mid-Atlantic Regional Spaceport on Wallops Island, Virginia, and placed the Cygnus spacecraft into orbit. The Cygnus, named S.S. John Young after the late astronaut, will arrive at the International Space Station early Monday. The spacecraft is carrying more than 3,300 kilograms of experiments and supplies for the station. The launch was scheduled Thursday but delayed two days by poor weather at the launch site.
Posted: Sun, Nov 18 8:18 AM ET (1318 GMT)
A Soyuz rocket successfully launched a Progress cargo spacecraft to the International Space Station Friday. The Soyuz FG rocket lifted off from the Baikonur Cosmodrome in Kazakhstan at 1:14 pm EST (1814 GMT) Friday and placed the Progress MS-10 cargo spacecraft into orbit nine minutes later. The spacecraft, carrying 2.5 tons of cargo, is scheduled to dock with the ISS Sunday at 2:29 pm EST. The launch was the fourth for a Soyuz rocket since the October failure during the Soyuz MS-10 launch, but the first to use the Soyuz FG version of the rocket, the same version that suffered the failure.
SpaceX launches Es'hail-2
Posted: Sun, Nov 18 8:17 AM ET (1317 GMT)
SpaceX launched a Qatari communications satellite Thursday, tying a record for most launches by the company in a year. The Falcon 9 lifted off from...
Rocket Lab raises $140 million
Posted: Sun, Nov 18 8:16 AM ET (1316 GMT)
Rocket Lab announced Thursday it has closed a $140 million funding round. The Series E round was led by Future Fund, Australia's sovereign wealth...
FCC approves plans for SpaceX, other satellite constellations
Posted: Sun, Nov 18 8:15 AM ET (1315 GMT)
SpaceX and three other companies won FCC approval for new satellite constellations Thursday. The FCC approved SpaceX's proposal for a constellation of 7,518...