Posted: Sun, Jun 10 11:12 AM ET (1512 GMT)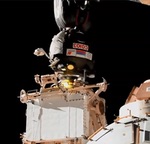 A Soyuz spacecraft carrying three new ISS crewmembers docked with the station Friday, two days after its launch. The Soyuz MS-09 spacecraft docked with the station's Rassvet module at 9:01 am EDT (1301 GMT), and hatches between the spacecraft and station opened a little more than two hours later. The Soyuz launched Wednesday from the Baikonur Cosmodrome. It brought to the station NASA astronaut Serena Auñón-Chancellor, ESA astronaut Alexander Gerst, and Roscosmos cosmonaut Sergey Prokopyev.
Posted: Sun, Jun 10 11:10 AM ET (1510 GMT)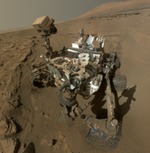 Scientists have discovered organic molecules and varying methane emissions on Mars, findings that that can be explained by both biological and non-biological processes. In one study published Thursday, scientists studying data from the Curiosity Mars rover detected organic molecules in Martian rocks dating back 3.5 billion years. In a second study, Curiosity detected methane in the Martian atmosphere that varied with the planet's seasons. While both results could be explained if Mars had, or has, life, those findings can also be explained by other processes.
Northrop Grumman completes acquisition of Orbital ATK
Posted: Sun, Jun 10 11:09 AM ET (1509 GMT)
Northrop Grumman officially completed its acquisition of Orbital ATK on Wednesday. The deal closed one day after winning approval from the Federal Trade Commission with...
Poll shows more support for NASA science than human spaceflight programs
Posted: Sun, Jun 10 11:08 AM ET (1508 GMT)
A new poll shows broad public support for NASA, but with greater interest in Earth science over human space exploration. The Pew Research Center poll,...
China launches weather satellite
Posted: Sun, Jun 10 11:07 AM ET (1507 GMT)
China launched a weather satellite Tuesday. The Long March 3A rocket lifted off from the Xichang Satellite Launch Center at 9:07 a.m. Eastern...