Posted: Sat, Feb 17 6:29 PM ET (2329 GMT)
The chairman of the FCC has given his endorsement for SpaceX's proposed broadband satellite constellation. In a statement Wednesday, Ajit Pai said his fellow commissioners should approve the company's license application for a constellation of 4,500 satellites that would provide broadband internet access. The first two prototype satellites for that system will launch Saturday as secondary payloads on a Falcon 9. SpaceX is one of 11 companies that followed OneWeb in seeking FCC licenses for non-geostationary orbit satellite systems in 2016.
Posted: Sat, Feb 17 6:27 PM ET (2327 GMT)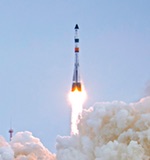 A Soyuz rocket launched a Progress cargo spacecraft early this morning after a two-day delay. The Soyuz-2.1a rocket lifted off from the Baikonur Cosmodrome at 3:13 am EST (0813 GMT) and placed the Progress MS-08 spacecraft into orbit. The launch was scheduled for Sunday but scrubbed in the final minute of the countdown due to a technical issue with the rocket. The Progress docked with the ISS on Thursday, delaying a spacewalk by astronauts Mark Vande Hei and Norishige Kanai from Thursday to Friday.
NASA budget proposal seeks to cancel WFIRST
Posted: Sat, Feb 17 6:20 PM ET (2320 GMT)
The administration's 2019 budget proposal for NASA includes plans to cancel a major space telescope. The budget proposal, released Monday, included the cancellation of...
China launches Bediou satellites
Posted: Sat, Feb 17 6:15 PM ET (2315 GMT)
China launched another pair of Beidou navigation satellites early Monday. A Long March 3B rocket lifted off from the Xichang Satellite Launch Center at 12:...
SES names new CEO
Posted: Sat, Feb 17 6:13 PM ET (2313 GMT)
SES has named Steve Collar its next president and CEO. The satellite operator announced Monday that Collar, currently the CEO of SES Networks, will succeed...