Posted: Sat, Feb 2 10:34 AM ET (1534 GMT)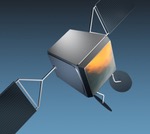 OneWeb confirmed a Soyuz problem will delay the launch of its first satellites. Greg Wyler, founder and chairman of OneWeb, tweeted that an anomaly with the rocket "will cause us to push out the launch," which was scheduled for mid-February from French Guiana. Neither he nor the company gave a new date for the launch. Russian media reported yesterday that technicians had found a problem with the Fregat upper stage and were studying how to repair it.
Posted: Sat, Feb 2 10:31 AM ET (1531 GMT)
Space Systems Loral (SSL) said Wednesday it was terminating an agreement with DARPA to develop a satellite servicing system. SSL, a division of Maxar Technologies, said it backed out of a 2017 agreement with DARPA on the Robotic Servicing of Geosynchronous Satelites (RSGS) program to "focus its resources on ensuring optimal returns when weighed against other capital priorities," such as the WorldView Legion system of remote sensing satellites. Maxar said it also canceled a contract with Space Infrastructure Services, a company it created that would have commercialized the RSGS servicer after a DARPA demonstration. DARPA said it will be "evaluating multiple options for the RSGS program going forward," which could include a recompetition of the program.
Defense Department to seek to create Space Force within the Air Force
Posted: Sat, Feb 2 10:28 AM ET (1528 GMT)
Acting Defense Secretary Patrick Shanahan confirmed Tuesday that the Pentagon's proposal for the Space Force will place it within the Air Force. Speaking with...
NASA making final bid to restore contact with Opportunity Mars rover
Posted: Sat, Feb 2 10:25 AM ET (1525 GMT)
NASA is making new, and potentially final, efforts to restore communications with the Mars rover Opportunity. JPL announced January 25 it would send new commands...
Virgin Galactic lays off staff
Posted: Sat, Feb 2 10:20 AM ET (1520 GMT)
Virgin Galactic confirmed Jan. 25 that it laid off dozens of employees earlier in the month. The company said about 40 employees, roughly five percent...