Posted: Fri, Aug 1 7:36 AM ET (1136 GMT)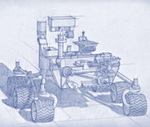 NASA revealed on Thursday the scientific instruments it plans to include on a 2020 Mars rover mission that will also collect samples for later return to Earth. NASA selected seven scientific payloads, including cameras, spectrometers, and a ground-penetrating radar. The rover also features an experiment to produce oxygen from carbon dioxide in the Martian atmosphere, a test of in situ resource utilization (ISRU) technologies needed for future human missions. In addition to those instruments, Mars 2020 will collect and cache Mars soil samples for return to Earth on a future mission. The selected payloads weigh and cost less than those on Curiosity, in part to accommodate the sample cache. Mars 2020 is other closely based on Curiosity, although NASA officials said they will make some tweaks to the rover's design, including improving the rover's wheels to address damage that Curiosity's wheels have suffered.
Posted: Wed, Jul 30 7:48 AM ET (1148 GMT)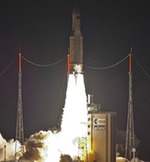 An Ariane 5 successfully launched on Tuesday the last in a planned series of European cargo spacecraft to the International Space Station. The Ariane 5 ES lifted off from Kourou, French Guiana, at 7:47 pm EDT (2347 GMT) Tuesday, placing the Automated Transfer Vehicle (ATV) 5 spacecraft into orbit. The spacecraft, named Georges Lemaitre after the Belgian astrophysicist, will spent two weeks in orbit conducting tests before docking with the ISS on August 12. The spacecraft is carrying 6,600 kilograms of supplies for the ISS. The spacecraft is the last in a series of ATVs that the European Space Agency launched to support its share of ISS logistics. ESA plans to use ATV technology to develop the service module for NASA's Orion spacecraft to cover its share of future ISS cargo services. The launch was also the 60th consecutive successful Ariane launch, a streak that has lasted for more than a decade.
Delta 4 launches space surveillance satellites
Posted: Tue, Jul 29 5:07 AM ET (0907 GMT)
After four scrubs due to ground equipment and weather issues, a Delta 4 rocket successfully placed three military space surveillance satellites into orbit on Monday....
Control of Russian research satellite restored
Posted: Sun, Jul 27 2:07 PM ET (1807 GMT)
Ground controllers have regained control of a research satellite that stopped responding to commands shortly after launch, Russian officials said Saturday. The Foton-M 4...
Delta 4 launch rescheduled for Monday
Posted: Sun, Jul 27 1:56 PM ET (1756 GMT)
After three successive launch scrubs due to weather, the Air Force hopes to launch three space surveillance satellites on a Delta 4 on Monday. Thunderstorms...