Posted: Sat, May 27 9:56 AM ET (1356 GMT)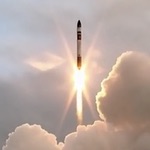 Rocket Lab's Electron rocket reached space, but not orbit, on its first launch May 25. The rocket lifted off from the company's New Zealand launch site at 12:20 am EDT (0420 GMT) after several days of weather-related delays. The company said that the rocket made it into space, but "didn't quite reach orbit." Rocket Lab said it was still reviewing data about the launch, but was pleased with the outcome. Electron is a small launch vehicle capable of placing up to 150 kilograms into low Earth orbit. This launch was the first of three test launches planned by Rocket Lab before beginning commercial flights, with the next launch expected in a couple months.
Posted: Sat, May 27 9:53 AM ET (1353 GMT)
A Soyuz rocket launched a Russian military satellite May 25. The Soyuz-2.1b rocket lifted off from the Plesetsk Cosmodrome in northern Russia at 2:34 am EDT (0634 GMT). Russian media described the rocket's payload as a "new generation military spacecraft," which had previously been identified as an EKS missile-warning satellite, placed in a Molniya orbit.
DARPA picks Boeing to build XS-1 spaceplane
Posted: Sat, May 27 9:52 AM ET (1352 GMT)
DARPA announced May 24 it has selected Boeing to develop a prototype reusable spaceplane. Boeing will build its "Phantom Express" for DARPA's Experimental Spaceplane...
White House offers $19.1 billion for NASA in 2018 budget request
Posted: Sat, May 27 9:51 AM ET (1351 GMT)
The White House's detailed fiscal year 2018 budget request, released May 23, provided more information on planned cuts to NASA Earth science and education...
Astronauts replace ISS electronics during contingency spacewalk
Posted: Sat, May 27 9:50 AM ET (1350 GMT)
Astronauts successfully replaced a faulty computer outside the International Space Station during a spacewalk May 23. Jack Fischer and Peggy Whitson spent 2 hours and...