Posted: Thu, Oct 23 6:02 AM ET (1002 GMT)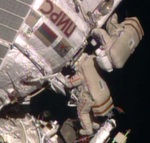 Two Russian cosmonauts worked quickly on a spacewalk outside the International Space Station on Wednesday, completing their tasks well ahead of schedule. Max Suraev and Alexander Samokutyaev spent 3 hours and 38 minutes outside the ISS, completing their EVA at 1:06 pm EDT (1706 GMT), more than two hours ahead of schedule. The two removed the Radiometriya experiment from the exterior of the Zvezda module and checked on other experiments there. The two also removed a pair of antennas from the exterior of the Pirs module no longer needed for spacecraft rendezvous activities. The spacewalk was the third outside the ISS this month, after two spacewalks earlier this month from the US segment. The spacewalk was also the last scheduled EVA at the station for this year.
Posted: Wed, Oct 22 8:04 AM ET (1204 GMT)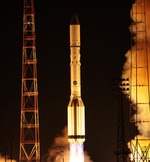 A Proton rocket successfully launched a Russian communications satellite on Tuesday. The Proton M lifted off from the Baikonur Cosmodrome at 11:09 am EDT (1509 GMT, 7:09 pm Moscow time) carrying the Express AM6 satellite. The rocket's upper stage released the satellite into a geosynchronous transfer orbit about nine hours later. The satellite, built by Russian manufacturer ISS Reshetnev for the Russian Satellite Communications Company, weighed about 3,400 kilograms at launch. It will operate from 53 degrees east in GEO, providing telecommunications services across Russia and surrounding regions. The launch is the second for the Proton since a launch failure in May.
Mars spacecraft survive comet flyby
Posted: Wed, Oct 22 7:53 AM ET (1153 GMT)
Spacecraft from the United States, Europe, and India all reported no problems after a comet passed within 140,000 kilometers of Mars this week. Comet...
China launches imaging satellite
Posted: Tue, Oct 21 8:01 AM ET (1201 GMT)
A Long March rocket placed a Chinese Earth imaging satellite into orbit on Monday. The Long March 4C lifted off from the Taiyuan Satellite Launch...
Hubble finds potential KBO targets for New Horizons
Posted: Mon, Oct 20 7:48 AM ET (1148 GMT)
Astronomers have discovered three Kuiper Belt Objects (KBOs) that could be potential targets for the New Horizons mission after it flies past Pluto next year....