Posted: Fri, Jan 30 6:19 AM ET (1119 GMT)
After a one-day delay due to weather, NASA and United Launch Alliance have delayed the Delta 2 launch of an Earth sciences satellite an additional day, to Saturday, to make minor repairs to the rocket. After strong upper-level winds scrubbed a launch attempt Thursday, technicians inspecting the Delta 2 7320 rocket noticed minor "debonds" of insulation on the booster that require repairs. The launch, which was previously rescheduled for Friday from Vandenberg Air Force Base in California, is now planned for Saturday at 9:20 am EST. The Delta 2 is carrying the Soil Moisture Active Passive (SMAP) spacecraft, designed to provide global measurements of soil measure for weather, climate, and related Earth science applications.
Posted: Fri, Jan 30 6:10 AM ET (1110 GMT)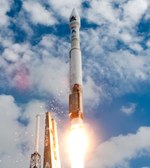 The US Air Force canceled a competition between SpaceX and United Launch Alliance for the launch of a classified satellite this week, awarding the launch to ULA as part of its existing block buy contract. The Air Force had competed the launch of the NROL-79 mission last year, providing an opportunity for SpaceX to go against ULA. However, the Air Force canceled the competition Wednesday, saying it was in "the best interest" of the government. ULA also won two other launches from the Air Force, also part of its existing block buy contract, with a total value of all three of $382 million. SpaceX dropped its lawsuit against the Air Force last week about that block buy contract after the government agreed to expedite its certification of SpaceX's Falcon 9 rocket and to increase the number of competitive launch opportunities. The Wall Street Journal reported that the Air Force plans to add several GPS satellites to the pool of upcoming missions whose launches will be competed.
Winds postpone Delta 2 launch a day
Posted: Thu, Jan 29 8:37 PM ET (0137 GMT)
High upper level winds forced launch controllers to postpone the launch of a NASA Earth sciences satellite by a day. The Delta 2 7320 was...
Weather delays launch of Japanese reconnaissance satellite
Posted: Thu, Jan 29 7:01 AM ET (1201 GMT)
Poor weather pushed back Thursday's scheduled launch of a Japanese reconnaissance satellite until at least Sunday. An H-2A was scheduled to launch from...
ATK and Orbital shareholders approve merger
Posted: Wed, Jan 28 6:41 AM ET (1141 GMT)
Shareholders of ATK and Orbital Sciences Corporation voted Tuesday to approve a merger of the two companies, which will allow the merger to close early...