Posted: Fri, Feb 27 5:49 AM ET (1049 GMT)
The Secretary of the Air Force said this week that she doubts a domestically-manufactured replacement for the RD-180 engine would be ready by a 2019 deadline set by Congress. Testifying before a Senate appropriations subcommittee Wednesday, Deborah Lee James said she wasn't sure the Air Force could have that engine replacement completed by 2019, a date set in a defense authorization bill last year. Congress established that deadline to end US reliance on the Russian-built RD-180, setting aside funding to start work on a replacement. In online comments Thursday, Tory Bruno, head of United Launch Alliance, said that he believed his privately-developed BE-4 engine would be ready for flight by 2019, but would not be certified for national security space launches until the early 2020s.
Posted: Thu, Feb 26 7:01 AM ET (1201 GMT)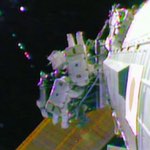 Two NASA astronauts successfully completed the second in a series of three spacewalks outside the International Space Station Wednesday, but one astronaut reported a small amount of water in his helmet after the EVA ended. Barry Wilmore and Terry Virts completed a 6-hour, 43-minute spacewalk at 1:34 pm EST (1834 GMT) Wednesday, completing all the scheduled tasks for the EVA. That work included completing the rigging of cables outside the station and preparing the Tranquility module for the installation of docking ports for commercial crew vehicles. The two also lubricated the Canadarm2 robotic arm. At the end of the spacewalk, Virts reported a small amount of water inside his helmet that appeared to come from a leak from the suit's cooling system. NASA said Virts was never in any danger, but an investigation into the leak could postpone the next spacewalk, planned for Sunday.
SES picks SpaceX for two launches
Posted: Thu, Feb 26 6:49 AM ET (1149 GMT)
European satellite operator SpaceX, which ordered three new satellites last week, announced Wednesday that it will launch two of them on SpaceX Falcon 9 rockets...
Russia endorses ISS extension, plans new station
Posted: Wed, Feb 25 6:13 AM ET (1113 GMT)
The Russian space agency Roscosmos announced Tuesday it plans to continue to participate in the International Space Station to 2024, then take its modules to...
Two Google Lunar X Prize teams to partner
Posted: Wed, Feb 25 6:02 AM ET (1102 GMT)
Two teams competing in the Google Lunar X Prize competition announced a partnership Monday, with one team's lander carrying rovers built by another team....