Posted: Sun, Jun 25 9:02 AM ET (1302 GMT)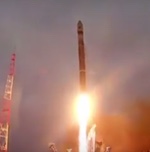 A Soyuz rocket placed a classified Russian military satellite into orbit June 23. The Soyuz-2.1v rocket lifted off at 3:04 pm EDT (1904 GMT) from the Plesetsk Cosmodrome in northern Russia. It placed into orbit a spacecraft designated Cosmos 2519, about which Russian officials provided no details. Outside observers believe it may be the first in a series of geodetic satellites to accurately measure the Earth's gravitational field for more accurate targeting of missiles.
Posted: Sun, Jun 25 9:01 AM ET (1301 GMT)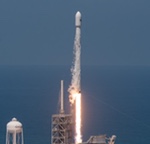 A SpaceX Falcon 9 launched a Bulgarian communications satellite June 23. The Falcon 9 lifted off from Launch Complex 39A at the Kennedy Space Center at 3:10 pm EDT (1910 GMT), halfway into a two-hour launch window. The rocket's first stage, which first flew on an Iridium launch in January, landed on a ship in the Atlantic. BulgariaSat-1, weighing about 4,000 kilograms at launch, carries 32 Ku-band transponders and will provide video and other communications services from 1.9 degrees east in GEO.
PSLV launches 31 satellites
Posted: Sun, Jun 25 8:59 AM ET (1259 GMT)
An Indian rocket launched 31 satellites June 23. The Polar Satellite Launch Vehicle lifted off from the Satish Dhawan Space Center at 11:59 pm...
OneWeb wins FCC approval for satellite constellation
Posted: Sun, Jun 25 8:58 AM ET (1258 GMT)
OneWeb has won FCC approval for its broadband satellite constellation. The FCC said June 22 it approved plans by OneWeb to provide broadband services in...
OHB-SSTL team wins new Galileo satellite order
Posted: Sun, Jun 25 8:56 AM ET (1256 GMT)
OHB and Surrey Satellite Technology Ltd. (SSTL) have won a contract for another eight Galileo navigation satellites. The companies signed the contract June 22 with...