Posted: Sat, Oct 18 9:24 AM ET (1324 GMT)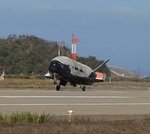 A secretive military spaceplane completed its third, and longest yet, mission Friday with a landing at Vandenberg Air Force Base in California. The X-37B completed what the Air Force calls Orbital Test Vehicle mission 3 (OTV-3) by landing on the main runway at Vandenberg at 9:24 am PDT (12:24 EDT, 1624 GMT) Friday. The Air Force announced late last week that the vehicle would be landing soon; while some reports indicated a landing could take place as early as Tuesday, the Air Force did not explain why the landing took place on Friday. The X-37B spent 674 days in space, carrying out a classified mission that outsiders have speculated ranged from technology demonstrations to reconnaissance. The Air Force said Friday that a fourth X-37B mission is scheduled for launch in 2015 from Cape Canaveral.
Posted: Sat, Oct 18 9:07 AM ET (1307 GMT)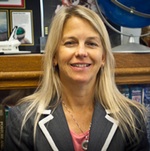 The White House announced Thursday that it has nominated an MIT professor with experience in space technology and policy to become the second-in-command at NASA. The Obama Administration formally announced Thursday the nomination of Dava Newman to become NASA Deputy Administrator, a position that requires confirmation by the US Senate. Newman, who has a PhD in aerospace biomedical engineering, has worked on a variety of human factors issues in spaceflight, including the development of a spacesuit design that provides greater flexibility. She also is director of the university's technology policy program, and served on the technical panel that supported the National Academies' Committee on Human Spaceflight. The position of NASA deputy administrator has been vacant since Lori Garver stepped down in September 2013.
Ariane launches two Latin American communications satellites
Posted: Sat, Oct 18 7:38 AM ET (1138 GMT)
An Ariane 5 successfully placed in orbit Thursday two communications satellites that will serve Latin America. The Ariane 5 ECA lifted off at 5:43...
India launches third navigation satellite
Posted: Sat, Oct 18 7:22 AM ET (1122 GMT)
A PSLV rocket successfully launched the third in a series of domestic navigation satellites on Thursday. The PSLV-XL lifted off from the Satish Dhawan...
Spacewalkers complete repairs outside ISS
Posted: Thu, Oct 16 11:07 AM ET (1507 GMT)
In the second spacewalk in as many weeks, astronauts on the International Space Station (ISS) replaced a component of the station's power system and...