Univ. of Texas to join Giant Magellan Telescope project
Posted: Sat, Mar 8 8:53 AM ET (1353 GMT)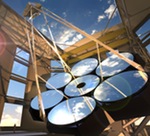 The recent of the University of Texas agreed Friday to join a project to build the world's largest telescope in Chile, agreeing to contribute $50 million to the effort. The Giant Magellan Telescope (GMT) will consist of seven mirrors each 8.4 meters in diameter, aligned to create a single telescope with an effective aperture of 24.8 meters. Total cost of building the GMT is estimated to be $1 billion; the University of Texas plans to provide $100 million of that total. The $50-million contributed approved by university regents Friday will be augmented by fundraising to reach the planned $100 million total. Another Texas university, Texas A&M, plans to provide $50 million for GMT construction. Several other institutions in the US, Australia, and South Korea are also partners on the GMT project, which expects to be completed in 2020.
Posted: Fri, Mar 7 6:12 AM ET (1112 GMT)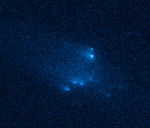 Images from the Hubble Space Telescope reveal an asteroid breaking apart into as many as ten pieces, perhaps due to the subtle influence of the Sun. Hubble images of P/2013 R3, taken between October and January, show the object breaking up into several smaller pieces, the largest of which are up to 400 meters in diameter. The asteroid, discovered in September, was initially categorized as a comet given its fuzzy appearance in telescopes. Astronomers now believe the object is an asteroid that has fractures and is surrounded by a coma of dust from that breakup. Astronomers don't believe a collision caused the breakup, and have ruled out heating of ices in the interior as an alternative cause. Instead, astronomers think the most likely cause is that sunlight gradually sped up the rotation rate of the asteroid to the point where centrifugal forces caused the object to fly apart.
Senate committee debates EELV competition
Posted: Thu, Mar 6 5:56 AM ET (1056 GMT)
A subcommittee of the Senate Appropriations Committee heard dueling testimony Wednesday from the head of the company that currently provides launch services for major military...
White House proposes $17.5-billion NASA budget for 2015
Posted: Wed, Mar 5 5:23 AM ET (1023 GMT)
A proposed fiscal year 2015 budget released by the Obama Administration would provide NASA with $17.5 billion but could force the agency to mothball...
China: "control circuit" failure on Yutu keeps rover from moving
Posted: Tue, Mar 4 5:13 AM ET (1013 GMT)
Chinese officials said the malfunction of a "control circuit" on its first lunar rover, Yutu, is keeping the rover from moving. The failed circuit in...