Posted: Mon, Nov 24 5:44 AM ET (1044 GMT)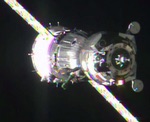 A Soyuz spacecraft carrying three people launched from Kazakhstan early Monday and arrived at the International Space Station less than six hours later. The Soyuz rocket carrying the Soyuz TMA-15M spacecraft lifted off from the Baikonur Cosmodrome at 4:01 pm EST Sunday (2101 GMT Sunday, 3:01 am local time Monday) and placed the spacecraft into orbit. The Soyuz spacecraft, making a "fast track" four-orbit approach, docked with the ISS's Rassvet module at 9:48 pm EST Sunday (0248 GMT Monday). On board the Soyuz were three new ISS crewmembers: Russian cosmonaut Anton Shkaplerov, American astronaut Terry Virts, and Italian astronaut Samantha Cristoforetti. The three will remain on the station until May 2015. They join the two Russian cosmonauts and one American astronaut already on the station.
Posted: Fri, Nov 21 6:40 AM ET (1140 GMT)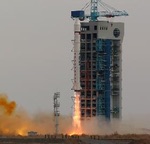 Two Chinese launches placed into orbit Earth observation and disaster monitoring satellites in less than 24 hours on Thursday and Friday. A Long March 2D rocket lifted off from the Jiquan Satellite Launch Center in China at 2:12 am EST (0712 GMT, 3:12 pm Beijing time) Thursday and placed the Yaogan-24 satellite into orbit. The satellite, launched less than a week after Yaogan-23, is reported to be used for civil remote sensing and scientific experiments, but is widely perceived in the West to be a military reconnaissance satellite. At 1:37 am EST (0637 GMT, 2:37 pm Beijing time) Friday, a Kuaizhou rocket placed the Kuaizhou-2 satellite into orbit. The satellite is said by Chinese media to provide information on natural disasters. The Kuaizhou rocket is a small solid-fuel vehicle based on a ballistic missile.
British company announced crowdfunded lunar mission plan
Posted: Thu, Nov 20 7:18 AM ET (1218 GMT)
A British company announced plans Wednesday to raise nearly $1 million through a crowdfunding campaign in the next month in the first phase of a...
ATK and Orbital postpone vote to approve merger
Posted: Thu, Nov 20 7:03 AM ET (1203 GMT)
ATK and Orbital Sciences Corp. announced this week that they have pushed back shareholder votes on their planned merger until late January in response to...
Russia considering new space station
Posted: Tue, Nov 18 8:50 AM ET (1350 GMT)
Russian media reported Monday that Russia was considering the development of its own space station and could withdraw from the International Space Station after 2020....