Posted: Sun, Sep 15 8:02 AM ET (1202 GMT)
The Senate's defense appropriations bill includes $22 million for a new small launch program. The funding for Tactically Responsive Space Launch, part of the Air Force's research, development, testing and evaluation account, is intended to "leverage new and innovative commercial capabilities" for Defense Department needs. The bill also includes a provision to study an inland hypersonic test and space launch corridor. The proposed Space Force would get the $72.4 million it requested, as well as full funding for the Space Development Agency. The full Senate Appropriations Committee approved the bill on Thursday.
Posted: Sun, Sep 15 8:01 AM ET (1201 GMT)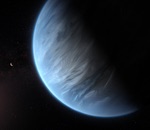 Astronomers have found a planet in a star's habitable zone with evidence of water in its atmosphere, but don't make your travel plans there just yet. The planet, K2-18b, orbits its star at a distance where liquid water could exist, and spectral data from the Hubble Space Telescope showed evidence of water vapor. While some scientists called the exoplanet "the best candidate for habitability that we know right now," others cautioned the planet, about eight times the mass of the Earth, is more like a "mini-Neptune" versus a super-Earth with a dense hydrogen atmosphere that could form a layer of liquid hydrogen.
China launches three smallsats
Posted: Sun, Sep 15 8:00 AM ET (1200 GMT)
China launched three satellites on a Long March 4B overnight. The rocket lifted off from the Taiyuan Satellite Launch Center at 11:26 p.m....
Relatvity signs agreement with Momentus
Posted: Sun, Sep 15 7:59 AM ET (1159 GMT)
Small launch vehicle company Relativity announced a launch agreement Wednesday with Momentus. The agreement includes one launch of Relativity's Terran 1 rocket in 2021...
Glenn center director to retire
Posted: Sun, Sep 15 7:58 AM ET (1158 GMT)
The director of NASA's Glenn Research Center will retire from NASA at the end of the month. Janet Kavandi, who led the Cleveland-based...