Posted: Sat, Oct 12 8:08 PM ET (0008 GMT)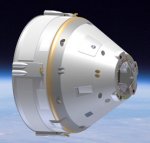 Boeing plans to launch an uncrewed test of its commercial crew vehicle in mid-December. A company executive said Wednesday the Orbital Flight Test of its CST-100 Starliner is scheduled for Dec. 17 on an Atlas 5 from Cape Canaveral. The spacecraft that will fly that mission to the International Space Station is in the final stages of assembly and testing. Boeing will perform a pad abort test using another Starliner vehicle Nov. 4 from White Sands, New Mexico, using the spacecraft's abort motor to leap off a pad for a 90-second flight. SpaceX will carry out its own in-flight abort test of its Crew Dragon vehicle, likely to take place in late November or early December. Neither company has set a date for a crewed test flight of their spacecraft.
Posted: Sat, Oct 12 8:08 PM ET (0008 GMT)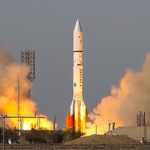 A Proton rocket lifted off Wednesday carrying two commercial satellites. The Proton launched on schedule at 6:18 am EDT (1018 GMT) from the Baikonur Cosmodrome. The rocket's Breeze M upper stage deployed the two spacecraft it is carrying, Eutelsat 5 West B and Mission Extension Vehicle (MEV) 1, nearly 16 hours after liftoff, placing them into supersynchronous transfer orbits. Eutelsat 5 West B is a communications satellite built by Northrop Grumman for Eutelsat, while MEV-1 is a satellite life extension spacecraft for Northrop's subsidiary SpaceLogistics.
Boeing to invest in Virgin Galactic
Posted: Sat, Oct 12 8:06 PM ET (0006 GMT)
Boeing announced Tuesday it will make a small but strategic investment in Virgin Galactic. Boeing HorizonX Ventures will invest $20 million in Virgin Galactic once...
Soyuz returns crew from ISS
Posted: Sun, Oct 6 11:06 AM ET (1506 GMT)
A Soyuz spacecraft carrying three people form the International Space Station landed safely in Kazakhstan Thursday. The Soyuz MS-12 spacecraft landed at 6:59...
Astronomers observe "cosmic web" connecting galaxies
Posted: Sun, Oct 6 11:04 AM ET (1504 GMT)
Astronomers have seen for the first time a "cosmic web" of material connecting distant galaxies. Observations of a "protocluster" of galaxies 12 billion light-years...