Posted: Sat, Dec 7 9:02 AM ET (1402 GMT)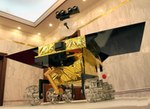 A Chinese spacecraft entered lunar orbit on Friday in preparation for a landing on the lunar surface in about a week. Chang'e-3 fired its main engine for six minutes on Friday, entering a 100-kilometer lunar orbit at 4:53 am EST (0953 GMT, 5:53 pm Beijing time) Friday, according to Chinese officials. Chang'e-3, which launched early Monday, is scheduled to land on the lunar surface in mid-December, most likely December 14. Chang'e-3 is China's third mission to the Moon, but will be its first spacecraft to soft-land on the Moon.
Posted: Fri, Dec 6 6:33 AM ET (1133 GMT)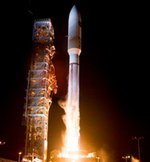 An Atlas 5 rocket launched a classified payload for the National Reconnaissance Office (NRO) late Thursday night. The Atlas 5 501 lifted off from Vandenberg Air Force Base in California at 11:14 pm PST Thursday (2:14 am EST, 0714 GMT Friday) on a mission designated NROL-39. Neither United Launch Alliance (ULA) or NRO released any details about the mission, but ULA did declare the launch a success a few hours after liftoff. Observers speculated, based on the launch vehicle and trajectory, that the payload is the latest in a series of Future Imagery Architecture radar imaging satellites. The Atlas also carried a dozen CubeSat secondary payloads developed by government agencies and universities.
Scientists detect water in atmospheres of several exoplanets
Posted: Fri, Dec 6 6:16 AM ET (1116 GMT)
Astronomers announced this week they had detected evidence of water in the atmospheres of several "hot Jupiter" exoplanets. Two groups of astronomers used observations of...
Falcon 9 launches SES-8 on third attempt
Posted: Wed, Dec 4 6:00 AM ET (1100 GMT)
After two attempts last week were scrubbed by technical glitches, a SpaceX Falcon 9 rocket successfully launched its first commercial geosynchronous orbit satellite on Tuesday...
China launches Chang'e-3 lunar lander
Posted: Mon, Dec 2 6:01 AM ET (1101 GMT)
A Long March rocket lifted off early Monday and placed China's first lunar lander mission on a trajectory towards the Moon. The Long March...