Posted: Sun, Jun 9 9:47 AM ET (1347 GMT)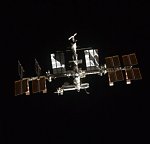 NASA unveiled a multi-pronged effort Friday to increase commercial use of the International Space Station, from changes in policy to making a docking port available for commercial modules. The policy, announced at the Nasdaq stock exchange, will allow two private astronauts a year to fly to the station on commercial crew vehicles for stays of up to 30 days. NASA is also updating its ISS commercial use policy and pricing for commercial ISS uses. The agency will be releasing a solicitation in the coming weeks that makes a port on the station available for commercial modules, and will support studies of commercial uses of the station and potential free-flying stations. NASA hopes these efforts will lead to the developing of commercial LEO facilities that could serve as successors to the ISS.
Posted: Sun, Jun 9 9:46 AM ET (1346 GMT)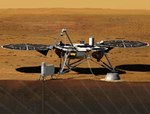 NASA is planning a new approach to resolving a problem with an instrument on the InSight Mars lander. The Heat Flow and Physics Properties Package includes a probe, or "mole," designed to hammer its way into the surface to a depth of five meters, but has been stuck just 30 centimeters below the surface for three months. NASA said this week it will use the lander's robotic arm to carefully lift up the instrument's support structure and take images of the area around the mole. The arm could also be used to press down on the surface, allowing the mole to gain traction against surrounding soil so it can continue burrowing into the surface.
Virgin Orbit planning spaceports in Britain and Japan
Posted: Sun, Jun 9 9:45 AM ET (1345 GMT)
The UK government will fund development of spaceport facilities at a British airport to allow it to host Virgin Orbit. The UK Space Agency and...
China performs first sea-based orbital launch
Posted: Sun, Jun 9 9:44 AM ET (1344 GMT)
China successfully launched a small rocket from a ship in the Yellow Sea Wednesday. A Long March 11 rocket launched from the ship at 12:...
House defense bill draft doesn't include Space Force
Posted: Sun, Jun 9 9:43 AM ET (1343 GMT)
A draft version of a defense authorization bill in the House is silent on the issue of creating a Space Force. The House Armed Services...