Posted: Sun, May 20 1:41 PM ET (1741 GMT)
Members of a union voted Saturday to accept a revised United Launch Alliance contract offer, ending a two-week strike. The members of the Machinists Union voted Saturday to approve a revised four-year contract offer and will return to work on Monday. The revised deal is one year longer than the original offer, which union members rejected May 6, and includes changes to wages, travel, insurance, and pension issues. ULA said that that strike did not significantly affect its operations, including preparations for its next launch in late July.
Posted: Sun, May 20 1:40 PM ET (1740 GMT)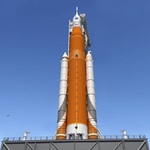 NASA is dealing with contamination in tubing located in part of the core stage of the first Space Launch System rocket. At a meeting Thursday, the Aerospace Safety Advisory Panel said it was briefed by NASA about the problem, in which paraffin wax was found in tubing in the engine section of the stage. Removing the wax is a "non-trivial problem," they said, complicated by the large amount of tubing in that section that needs to be inspected and cleaned. The panel did not say if the problem would affect the schedule of the first SLS launch, officially scheduled for December 2019 but which may slip into 2020.
Appropriators pass NASA spending bill that funds WFIRST
Posted: Sun, May 20 1:39 PM ET (1739 GMT)
A spending bill approved by House appropriators Thursday partially restores funding for a NASA space telescope proposed for cancellation. The House Appropriations Committee released Wednesday...
Astronauts swap ISS coolant pump unit during spacewalk
Posted: Sun, May 20 1:39 PM ET (1739 GMT)
Two astronauts successfully completed a spacewalk Wednesday to maintain the station's cooling system. During the six-and-a-half-hour spacewalk, NASA astronauts Drew...
Mark Geyer named next director of Johnson Space Center
Posted: Sun, May 20 1:38 PM ET (1738 GMT)
Mark Geyer will be the next director of NASA's Johnson Space Center. NASA named Geyer to the position May 14, effective May 25 when...