Posted: Sun, May 31 8:42 AM ET (1242 GMT)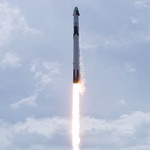 A Crew Dragon spacecraft with two NASA astronauts on board reached orbit Saturday after a successful launch. The SpaceX Falcon 9 lifted off at 3:22 pm EDT (1922 GMT) from Launch Complex 39A at the Kennedy Space Center, placing the Crew Dragon spacecraft into orbit 12 minutes later. The spacecraft, dubbed "Endeavour" by the NASA astronauts, Bob Behnken and Doug Hurley, on board, is scheduled to dock with the International Space Station Sunday morning. The launch was the first human orbital launch from the US since the end of the shuttle program in July 2011, and the first commercially operated crewed vehicle to reach orbit. Once at the station, the Crew Dragon will remain there for up to four months so that Behnken and Hurley can support ISS operations, given there are currently only three people on board.
Posted: Sun, May 31 8:33 AM ET (1233 GMT)
A Long March 11 rocket lifted off Friday placing a pair of technology demonstration satellites into orbit. The Long March 11 lifted off from the Xichang Satellite Launch Center at 4:13 pm EDT (2013 GMT) Friday carrying the Xinjishu Shiyan-G and -H satellites. The satellites will test intersatellite networking and other technology tests. The launch was the first of the Long March 11, a solid-fuel rocket, from Xichang.
Weather scrubs Demo-2 launch attempt
Posted: Thu, May 28 6:26 PM ET (2226 GMT)
Weather forced NASA and SpaceX to scrub Wednesday's commercial crew launch, delaying it until at least Saturday. Launch controllers halted the countdown for the...
First LauncherOne mission fails to reach orbit
Posted: Thu, May 28 6:24 PM ET (2224 GMT)
Virgin Orbit's first LauncherOne rocket failed to make it to orbit Monday. The rocket, carried aloft by the company's Boeing 747 aircraft, was...
Soyuz launches missile early warning satellite
Posted: Sun, May 24 10:55 AM ET (1455 GMT)
Russia launched a military satellite on a Soyuz rocket early Friday. A Soyuz-2.1b rocket lifted off from the Plesetsk Cosmodrome in northern Russia...