Posted: Fri, Jul 29 6:58 PM ET (2258 GMT)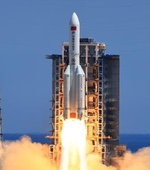 China launched a new module for its space station Sunday, along with a rocket stage that will make another uncontrolled reentry. A Long March 5B rocket lifted off from the Wenchang spaceport at 2:22 am EDT (0622 GMT) and placed the Wentian module in orbit. The module docked with China's space station nearly 13 hours later. The module hosts accommodations for science payloads, provides backup life support and propulsion for the Tianhe core module and offers new working and living quarters and an EVA hatch for astronauts. As with previous Long March 5B launches, the core stage entered orbit and will perform an uncontrolled reentry within about a week.
Posted: Fri, Jul 29 6:53 PM ET (2253 GMT)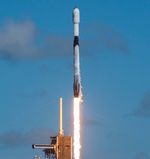 SpaceX launched two sets of Starlink launches less than 48 hours apart. One Falcon 9 launched from Vandenberg Space Force Base in California at 1:39 pm EDT (1739 GMT) July 22, placing 46 Starlink satellites into a polar orbit. That launch was scrubbed a day earlier for what SpaceX said was a sensor reading that was out of limits. Another Falcon 9 lifted off from Kennedy Space Center in Florida at 9:38 am EDT (1338 GMT) July 24, delivering 53 Starlink satellites to orbit. SpaceX has now conducted 33 launches so far this year, breaking its record of most launches in a year of 31 set last year.
European, Russian ISS crewmembers perform spacewalk
Posted: Fri, Jul 29 6:48 PM ET (2248 GMT)
Two ISS crew members performed a seven-hour spacewalk July 21. Roscosmos cosmonaut Oleg Artemyev and ESA astronaut Samantha Cristoforetti spent seven hours and five...
Draper wins NASA contract for lunar farside lander mission
Posted: Fri, Jul 29 6:46 PM ET (2246 GMT)
Draper has won a NASA contract to deliver a suite of experiments to the far side of the moon in 2025. NASA awarded Draper a $...
NASA sets late August and early September launch dates for Artemis 1
Posted: Fri, Jul 29 6:43 PM ET (2243 GMT)
NASA has set three potential launch dates in late August and early September for the first flight of the Space Launch System. The agency said...