Posted: Sat, Mar 18 10:38 AM ET (1438 GMT)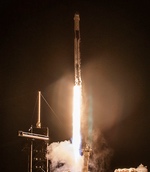 A cargo Dragon spacecraft is on its way to the International Space Station after a launch Tuesday night. A Falcon 9 lifted off at 8:30 pm EDT (0030 GMT Wednesday), placing the Dragon into orbit 12 minutes later. The spacecraft, carrying about 2,850 kilograms of equipment, supplies and science payloads for the station, docked with the station early Thursday and will remain there for about a month before returning to Earth. The launch was not affected by a maneuver that the ISS performed early Tuesday to adjust its orbit to avoid debris from a Russian ASAT test.
Posted: Sat, Mar 18 10:37 AM ET (1437 GMT)

NASA projects spending up to $1 billion on a tug to deorbit the International Space Station at the end of its life. The agency also released its full budget Monday, requesting $27.2 billion in 2024. That budget includes $180 million to start work on the deorbit tug, which the agency current expects to cost "a little bit short" of $1 billion, although agency officials hope companies will find ways to reduce the costs. The tug is intended to provide redundancy to plans to use cargo spacecraft to deorbit the station in 2030. The tug is the biggest new program in the budget that largely continues existing ones, such as elements of Artemis. The budget, though, revealed that NASA has delayed the Artemis 4 mission from 2027 to 2028, while keeping Artemis 3 in late 2025.
China launches Egyptian remote sensing satellite
Posted: Sat, Mar 18 10:36 AM ET (1436 GMT)
China launched a second Egyptian remote sensing satellite early Monday. A Long March 2C rocket launched from the Jiuquan Satellite Launch Center at 12:02...
Proton launches Russian military satellite
Posted: Sat, Mar 18 10:35 AM ET (1435 GMT)
Russia launched a military communications satellite March 12. A Proton rocket lifted off from the Baikonur Cosmodrome at 7:13 pm EDT (2313 GMT) Sunday...
Crew Dragon splashes down to complete Crew-5 mission
Posted: Sat, Mar 18 10:34 AM ET (1434 GMT)
A Crew Dragon spacecraft returned from the International Space Station March 11. The Crew Dragon spacecraft Endurance splashed down off the coast from Tampa, Florida,...