Posted: Fri, Jun 18 5:32 PM ET (2132 GMT)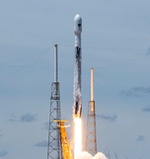 A SpaceX Falcon 9 launched a GPS satellite Thursday on the first National Security Space Launch (NSSL) mission to fly a reused booster. The rocket lifted off at 12:09 pm EDT (1609 GMT) from Space Launch Complex 40 at Cape Canaveral Space Force Station in Florida. The upper stage released the Lockheed Martin-built GPS 3 SV05 satellite about an hour and a half later. This was the first NSSL mission where SpaceX used a previously flown Falcon 9 first stage. The booster on this mission previously launched the GPS 3 SV04 satellite last November.
Posted: Fri, Jun 18 5:30 PM ET (2130 GMT)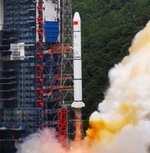 China launched another group of classified satellites Friday. The Long March 2C rocket lifted off from the Xichang Satellite Launch Center in southwest China at 2:30 am EDT (0630 GMT). It placed into orbit a ninth group of Yaogan-30 satellites. The inclination of the Yaogan-30 constellation suggests it may provide frequent revisits for electronic and signals intelligence, and optical and radar imaging, in areas close to China.
Chinese crew launches to space station
Posted: Fri, Jun 18 5:29 PM ET (2129 GMT)
China's Shenzhou-12 crewed spacecraft docked with the Tianhe space station module early Thursday, hours after launch. Shenzhou-12 and its crew of three...
Spacesuit problem hinders spacewalk
Posted: Fri, Jun 18 5:28 PM ET (2128 GMT)
A spacesuit problem kept astronauts from completing all their tasks on a spacewalk outside the International Space Station Wednesday. NASA astronaut Shane Kimbrough encountered a...
Minotaur launches NRO payload
Posted: Fri, Jun 18 5:27 PM ET (2127 GMT)
A Minotaur 1 rocket successfully launched three payloads for the National Reconnaissance Office Tuesday. The Minotaur 1 blasted off at 9:35 am EDT (1335...