Posted: Sat, Aug 8 5:15 PM ET (2115 GMT)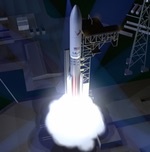 SpaceX and United Launch Alliance have won contracts potentially worth billions of dollars to launch national security satellites for much of the coming decade. The Pentagon announced Friday that the two companies won National Security Space Launch (NSSL) Phase 2 contracts, covering launches of military and intelligence satellites from fiscal year 2022 through 2027. The Air Force immediately assigned two launches to ULA and one to SpaceX for missions in 2022. SpaceX will use its existing Falcon 9 and Falcon Heavy rockets, while ULA will use its Vulcan Centaur rocket in development. The two companies beat out Blue Origin and Northrop Grumman, which offered their New Glenn and OmegA rockets in development.
Posted: Sat, Aug 8 5:09 PM ET (2109 GMT)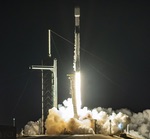 SpaceX launched another set of Starlink satellites, and two BlackSky imaging satellites, early Friday. The Falcon 9 lifted off from the Kennedy Space Center at 1:12 am EDT (0512 GMT) and deployed the two BlackSky satellites a little more than an hour after liftoff, followed by 57 Starlink satellites a half-hour later. The rocket's first stage, making its fifth flight, landed on a droneship successfully, but SpaceX was unable to catch the two payload fairing halves. The launch had been delayed several times since late June, which SpaceX said was caused by weather and payload issues, and not problems with the rocket itself.
China launches imaging satellite
Posted: Sat, Aug 8 5:07 PM ET (2107 GMT)
China launched a new Earth imaging satellite Thursday. A Long March 2D rocket lifted off from the Jiuquan Satellite Launch Center at 12:01 am...
Starship prototype makes first hop test
Posted: Thu, Aug 6 5:39 PM ET (2139 GMT)
A SpaceX Starship prototype made a long-awaited brief test flight Tuesday evening. The Starship SN5 vehicle lifted off from the company's Boca Chica,...
Crew Dragon splashes down successfully
Posted: Thu, Aug 6 5:38 PM ET (2138 GMT)
A SpaceX Crew Dragon spacecraft splashed down in the Gulf of Mexico Sunday afternoon, successfully returning two NASA astronauts to Earth. The spacecraft, named Endeavour...