Posted: Sun, Jun 4 9:16 AM ET (1316 GMT)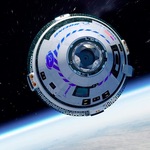 The first crewed flight of Boeing's CST-100 Starliner has been delayed again. NASA and Boeing announced late Thursday that the Crew Flight Test (CFT) mission, which had been scheduled to launch as soon as July 21, would be delayed indefinitely because of two new issues with the spacecraft. One issue involves parachute components called soft links that are not as strong as required, while the other is tape used to wrap wire harnesses that is flammable. Boeing said it would spend the next week reviewing potential solutions to those issues. A launch of the CFT mission before the end of this year is "feasible," the company said, but added it was premature to set a launch date. NASA said it supported Boeing's decision to delay CFT and reiterated its desire to get Starliner flying to provide redundancy to SpaceX's Crew Dragon.
Posted: Sun, Jun 4 9:11 AM ET (1311 GMT)
SpaceX launched another set of Starlink satellites early Wednesday. A Falcon 9 lifted off from Vandenberg Space Force Base at 2:02 am EDT (0602 GMT), deploying 52 Starlink satellites 17 minutes later. The booster, making its 14th flight, landed on a droneship in the Pacific Ocean.
Crew Dragon splashes down to conclude Ax-2 misison
Posted: Sun, Jun 4 9:09 AM ET (1309 GMT)
Axiom Space's second private astronaut mission to the International Space Station ended with a successful splashdown Tuesday night. The Crew Dragon spacecraft flying the...
North Korean launch of reconnaissance satellite fails
Posted: Sun, Jun 4 9:06 AM ET (1306 GMT)
A North Korean rocket failed shortly after liftoff Tuesday, plunging into the ocean with its spy satellite payload. The Chollima-1 rocket lifted off at...
Viasat completes acquisition of Inmarsat
Posted: Sun, Jun 4 8:48 AM ET (1248 GMT)
Viasat has completed its acquisition of Inmarsat, the companies announced Tuesday. The combined company has 19 satellites in orbit across Ka-, L- and S- band...