Posted: Sat, Jun 25 12:36 PM ET (1636 GMT)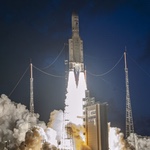 The first Ariane 5 launch in nearly half a year placed two communications satellites into orbit Wednesday. The Ariane 5 lifted off from French Guiana at 5:50 pm EDT (2150 GMT) and placed into geostationary transfer orbits the Measat-3d and GSAT-24 communications satellites for the Malaysian satellite operator Measat and the Indian space agency ISRO, respectively. The launch was the first Ariane 5 mission since the launch of the James Webb Space Telescope last December, with just four more launches remaining before the vehicle is retired.
Posted: Sat, Jun 25 12:29 PM ET (1629 GMT)
China launched a set of reconnaissance satellites Wednesday night. A Long March 2D rocket lifted off from the Xichang Satellite Launch Center at 10:22 pm EDT (0222 GMT Thursday) and placed the three Yaogan-35 satellites into orbit. Chinese media describe the satellites as performing science experiments and civil applications, but Western observers believe these are military reconnaissance satellites.
Kuaizhou-1A returns to flight
Posted: Sat, Jun 25 12:26 PM ET (1626 GMT)
China's Kuaizhou-1A returned to flight Tuesday night, six months after a launch failure. The small rocket lifted off at 10:08 p.m....
KSLV-2 reaches orbit on second launch
Posted: Sat, Jun 25 12:22 PM ET (1622 GMT)
South Korea successfully launched its KSLV-2 rocket Tuesday. The rocket lifted off from the Naro Space Center at 3 am EDT (0700 GMT) and...
NASA conducts fourth SLS wet dress rehearsal
Posted: Sat, Jun 25 12:19 PM ET (1619 GMT)
NASA nearly completed a countdown test of the Space Launch System Monday after dealing with several technical problems. The fourth wet dress rehearsal of the...