Posted: Sat, May 8 11:28 AM ET (1528 GMT)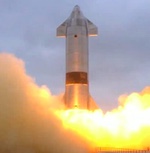 A SpaceX Starship prototype successfully completed a short test flight Wednesday. The Starship SN15 vehicle took off from the company's Boca Chica, Texas, test site at 6:24 pm EDT (2224 GMT), flying to an altitude of 10 kilometers before landing six minutes later. This vehicle survived the landing, unlike four previous prototypes that were destroyed during or shortly after landing. SN15 included what SpaceX called "multiple upgrades and improvements" to address problems found on previous test flights as well as to prepare for future orbital missions. SpaceX CEO Elon Musk acknowledged last month that Starship has been "a tough vehicle to build" as the company tries to create a vehicle that is fully and rapidly reusable.
Posted: Sat, May 8 11:22 AM ET (1522 GMT)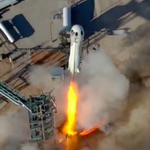 Blue Origin will fly people on its New Shepard suborbital vehicle for the first time in July, and is auctioning off a seat on that mission. The company said Wednesday that first crewed flight is scheduled for July 20 after years of test flights without people on the vehicle. The company started an auction process Wednesday for one seat on the flight, with the proceeds going to an educational nonprofit, Club for the Future, affiliated with Blue Origin. The company, though, did not disclose plans for selling tickets on future flights, noting only that it expected to carry out a couple more crewed New Shepard missions through the end of the year.
SpaceX launches more Starlink satellites
Posted: Sat, May 8 11:15 AM ET (1515 GMT)
SpaceX launched another set of Starlink satellites Tuesday as the company noted a milestone in customer interest in the broadband service. A Falcon 9 lifted...
Firefly Aerospace raises $75 million
Posted: Sat, May 8 11:04 AM ET (1504 GMT)
Firefly Aerospace raised a $75 million Series A round as it nears its first launch. The company raised the round from a group of investors...
NASA halts work on HLS contract amid protests
Posted: Sat, May 8 11:02 AM ET (1502 GMT)
NASA has halted work on the Human Landing System (HLS) contract awarded to SpaceX amid protests by Blue Origin and SpaceX. NASA said April 30...