Posted: Sun, Dec 8 11:05 AM ET (1605 GMT)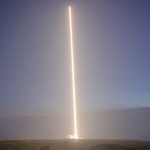 Rocket Lab successfully launched several smallsats early Friday on a mission that also tested the ability to recover the Electron's first stage. The Electron lifted off at 3:18 am EST (0818 GMT) from the company's New Zealand launch site and placed seven smallsats into low Earth orbit. Those satellites include one from a Japanese company intended to create artificial meteor showers and six "PocketQube" satellites for a variety of technology demonstrations. The Electron's first stage was upgraded for this mission with technologies to enable it to make a guided re-entry, and the company said initial results of that test looked promising as the company plans to eventually recover and reuse the stage. The launch was the sixth and final Electron mission of 2019.
Posted: Sun, Dec 8 11:04 AM ET (1604 GMT)
A Soyuz rocket launched a Progress cargo spacecraft early Friday. The Soyuz-2.1a rocket launched at 4:34 am EST (0934 GMT) from the Baikonur Cosmodrome and placed the Progress MS-13 spacecraft into orbit. The spacecraft, carrying nearly 2,500 kilograms of cargo, is scheduled to dock with the International Space Station on Monday.
Falcon 9 launches CRS-19 Dragon mission to ISS
Posted: Sun, Dec 8 11:03 AM ET (1603 GMT)
A Dragon cargo spacecraft is also en route to the ISS after a launch Thursday. A SpaceX Falcon 9 lifted off from Cape Canaveral, Florida,...
Air Force to revise launch RFP
Posted: Sun, Dec 8 11:02 AM ET (1602 GMT)
The Air Force will soon release a revised launch services procurement that addresses issues raised by the GAO. Col. Robert Bongiovi, director of the Air...
NASA working to schedule AMS, battery repair spacewalks
Posted: Sun, Dec 8 11:00 AM ET (1600 GMT)
NASA is still figuring out how to squeeze in three spacewalks some time in the next two months to complete station repairs. NASA has one...