Posted: Sat, Jul 24 4:48 PM ET (2048 GMT)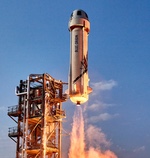 Blue Origin successfully performed the first crewed launch of its New Shepard suborbital vehicle Tuesday with founder Jeff Bezos and three others on board. New Shepard lifted off from the company's West Texas site at 9:12 am EDT (1312 GMT), with the capsule reaching a peak altitude of about 107 kilometers before landing 10 minutes later. Bezos was joined on the flight by his brother Mark, Wally Funk and Oliver Daemen. Blue Origin executives said before the launch they were ready to start flying people after 15 uncrewed test flights, and saw no need to fly company employees as test astronauts first.
Posted: Sat, Jul 24 4:39 PM ET (2039 GMT)
China launched another set of Yaogan imaging satellites. A Long March 2C rocket lifted off from the Xichang Satellite Launch Center at 8:19 pm EDT Sunday (0019 GMT Monday) and placed the three Yaogan-30 satellites into orbit. A small communications satellite, Tianqi-15, was also on the launch. The launch reportedly included an attempt to recover the rocket's payload fairing.
Rocket Lab identifies cause of launch failure
Posted: Sat, Jul 24 4:37 PM ET (2037 GMT)
Rocket Lab says it's ready to return its Electron rocket to flight after tracking down the cause of a failure in May. The company...
Hubble Space Telescope resumes science operations
Posted: Sat, Jul 24 4:23 PM ET (2023 GMT)
The Hubble Space Telescope resumed science operations July 17 after a month-long outage. NASA said controllers successfully switched the telescope to a backup payload...
Measat communications satellite drifting in GEO
Posted: Sat, Jul 24 4:19 PM ET (2019 GMT)
Malaysian operator Measat says it's maintained control of an aging communications satellite that has drifted out of its slot in geostationary orbit. Measat-3...