Posted: Sun, May 22 9:17 AM ET (1317 GMT)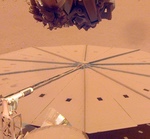 NASA confirmed Tuesday that the end is in sight for the InSight Mars lander. Project officials said that dust accumulating on the spacecraft's solar panels, along with increased dust in the atmosphere from seasonal changes, mean power levels are dropping to critical levels. Spacecraft controllers will start turning off science instruments and put the lander's robotic arm into a final "retirement pose" in the next few weeks, and operate the main instrument, a seismometer, intermittently through the summer. Power levels will likely cause the spacecraft to cease operations entirely by the end of the year, which NASA had anticipated for some time.
Posted: Sun, May 22 9:13 AM ET (1313 GMT)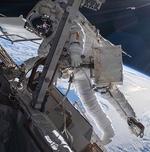 NASA is putting on hold spacewalks at the ISS while it investigates a water leak during a spacewalk in March. In that March 23 spacewalk, ESA astronaut Matthias Maurer reported a thin layer of water pooling on his visor at the end of the seven-hour spacewalk. At a briefing before the Boeing Starliner launch, NASA confirmed that the agency is "no-go" on routine spacewalks while it continues to investigate the problem, but would consider performing contingency spacewalks for any critical repairs on the station. NASA was not planning any spacewalks until later this year. NASA's safety advisers also noted the issue at a meeting last week, seeing it as evidence the aging spacesuits needs to be replaced.
SpaceX launches Starlink satellites from KSC
Posted: Sun, May 22 9:12 AM ET (1312 GMT)
A SpaceX Falcon 9 launched a set of Starlink satellites Wednesday morning, the third such launch in less than a week. The Falcon 9 lifted...
Rocket Lab reports quarterly earnings
Posted: Sun, May 22 9:11 AM ET (1311 GMT)
Rocket Lab said most of its first-quarter revenue did not come from rockets. The company reported Monday $40.7 million in revenue, along with...
SpaceX performs back-to-back Starlink launches
Posted: Sun, May 22 9:10 AM ET (1310 GMT)
SpaceX launched two sets of Starlink satellites on Falcon 9 launches on opposite coasts less than 24 hours apart. One Falcon 9 lifted off from...