Posted: Tue, Dec 31 1:44 PM ET (1844 GMT)
Maxar Technologies is selling its Canadian subsidiary for C$1 billion (US$765 million). Maxar announced Monday it will sell MDA to a consortium of private equity firms led by Northern Private Capital, turning MDA into a standalone Canadian company. The deal is pending regulatory approvals in the United States and Canada. The sale will help Maxar reduce its heavy debt load, and the company says the reduced revenues and earnings resulting from selling MDA will be partially offset by growth in other parts of the company as well as by reduced interest payments on its debt. MDA was founded 50 years ago as a Canadian company, but earlier this decade became a much larger American company through the acquisition of SSL and merger with DigitalGlobe, creating Maxar.
Posted: Tue, Dec 31 1:43 PM ET (1843 GMT)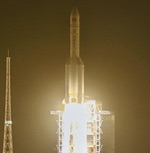 China's Long March 5 returned to flight early Dec. 27. The rocket lifted off from the Wenchang Satellite Launch Center at 7:45 am EST (1245 GMT), deploying the Shijian-20 experimental communications satellite into orbit 40 minutes later. The launch was the first for the heavy-lift rocket since a July 2017 launch failure. The rocket is a critical element of China's future space plans, with launches scheduled in mid-2020 of a Mars orbiter and lander, followed in late 2020 by a lunar sample return mission. A variant of the Long March 5 needed for launching space station modules will also be tested next year.
Rockot performs final launch
Posted: Tue, Dec 31 1:41 PM ET (1841 GMT)
A Russian Rockot launched three communications satellites Dec. 26 on the final flight of the vehicle. The Rockot lifted off from the Plesetsk Cosmodrome at...
Starliner in good shape after abbreviated test flight
Posted: Tue, Dec 31 1:40 PM ET (1840 GMT)
Boeing says its CST-100 Starliner commercial crew spacecraft is in good shape after its abbreviated test flight earlier this month. In a statement over...
Koch sets spaceflight record
Posted: Tue, Dec 31 1:39 PM ET (1839 GMT)
NASA astronaut Christina Koch set a spaceflight record over the weekend. Koch eclipsed the record for the longest single spaceflight by a woman on Saturday...