Posted: Sat, Dec 3 10:29 AM ET (1529 GMT)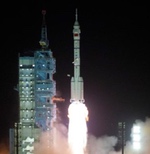 China launched three astronauts to the country's space station Tuesday. The Shenzhou-15 spacecraft launched at 10:08 am EST (1508 GMT) on a Long March 2F rocket from the Jiuquan Satellite Launch Center and docked with the Tiangong space station six and a half hours later. Astronauts Fei Junlong, Deng Qingming and Zhang Lu entered the station a couple hours later, greeted by the Shenzhou-14 crew of Chen Dong, Liu Yang and Cai Xuzhe, who have been on the station for six months. This is the first direct handover between space station crews and marks the start of science operations on Tiangong, which carries 24 experiment cabinets and a payload airlock.
Posted: Sat, Dec 3 10:22 AM ET (1522 GMT)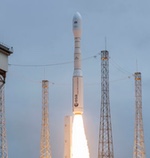 The European Commission awarded a contract to Arianespace for five Vega C launches of Copernicus satellites. The contract, announced Tuesday, covers five Earth observation spacecraft slated for launch between 2024 and 2026. Arianespace earlier won a contract for another Sentinel satellite, also launching on Vega C. That rocket was scheduled to make its first commercial launch last week but suffered a technical problem that will delay that mission to Dec. 20. Arianespace said the problem was with pyrotechnics in the payload fairing separation system that could not be fixed on the launch pad.
Cargo Dragon sent to ISS
Posted: Sat, Dec 3 10:19 AM ET (1519 GMT)
The space station crew got next-day delivery of cargo over the weekend. A Falcon 9 lifted off at 2:20 pm EST (1910 GMT)...
China launches reconnaissance satellite
Posted: Sat, Dec 3 10:15 AM ET (1515 GMT)
China launched a reconnaissance mission Nov. 27. A Long March 2D rocket lifted off from the Xichang Satellite Launch Center at 7:23 am EST (...
PSLV launches Earth science satellite
Posted: Sat, Dec 3 10:13 AM ET (1513 GMT)
An Indian rocket launched an Earth science satellite and eight secondary payloads early Nov. 26. The Polar Satellite Launch Vehicle (PSLV) lifted off from the...