Posted: Sat, Sep 30 3:25 PM ET (1925 GMT)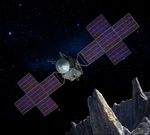 NASA is delaying the launch of the Psyche asteroid mission by a week. NASA said late Thursday that delaying the launch to Oct. 12 will give engineers more time to properly configure nitrogen cold-gas thrusters used to orient the spacecraft, after concluding those thrusters would operate at higher temperatures than originally planned. There are instantaneous launch windows for the mission daily through Oct. 25. Psyche will travel the the metallic main belt asteroid of the same name, arriving in 2029.
Posted: Sat, Sep 30 3:23 PM ET (1923 GMT)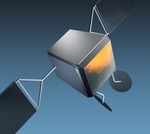 Eutelsat has completed its merger with OneWeb after a shareholder vote. Eutelsat said Thursday that its shareholders voted to approve the all-share deal that valued OneWeb at $3.4 billion. The approval was expected after investors owning nearly half of Eutelsat previously said they backed the deal, although Eutelsat did not immediately report the percentage of shareholders approving the transaction. OneWeb's shareholders had previously signed off on the deal, which also received all the necessary regulatory approvals. OneWeb will operate as a subsidiary of the French operator, called Eutelsat OneWeb, and its center of operations will remain in London. OneWeb's LEO network is set to play an important part in Eutelsat's pivot to connectivity services, which the French operator expects will help it return to growth next year.
Iran launches reconnaissance satellite
Posted: Sat, Sep 30 3:22 PM ET (1922 GMT)
Iran announced Wednesday that it launched a reconnaissance satellite. The Iranian government said it launched the Noor-3 satellite on a Qased rocket into a...
Soyuz returns crew from ISS
Posted: Sat, Sep 30 3:21 PM ET (1921 GMT)
A Soyuz spacecraft landed in Kazakhstan this morning, wrapping up a record-setting mission for the three people on board. The Soyuz MS-23 spacecraft...
China launches spysat
Posted: Sat, Sep 30 3:20 PM ET (1920 GMT)
China launched another reconnaissance satellite Tuesday. A Long March 4C rocket lifted off from the Jiuquan Satellite Launch Center at 4:15 pm EDT (2015...