Posted: Sat, Dec 2 9:49 AM ET (1449 GMT)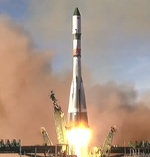 A Progress cargo spacecraft is on its way to the International Space Station after a launch Friday morning. A Soyuz-2.1a rocket lifted off from the Baikonur Cosmodrome at 4:25 am EST (0925 GMT) and placed the Progress MS-25 spacecraft into orbit. The spacecraft, designated Progress 86 by NASA, is carrying about 2.5 metric tons of cargo and is scheduled to dock with the station at 6:14 am EST (1114 GMT) Sunday.
Posted: Sat, Dec 2 9:46 AM ET (1446 GMT)
ESA has set a mid-2024 date for the first Ariane 6 launch. At a briefing early Thursday, ESA announced that the inaugural Ariane 6 flight was scheduled for between June 15 and July 31 of next year, with a more precise date to come after qualification reviews in the spring. ESA set the date after reviewing data a hot-fire test of the core stage last week. That test was a success, ESA said, although the core stage shut down about 45 seconds early because of a faulty sensor and "very conservative" test thresholds. The first Ariane 6 will carry a set of smallsats, with the second, slated for late 2024, to launch a French military reconnaissance satellite.
NASA delays launch of Dragonfly mission to Titan
Posted: Sat, Dec 2 9:43 AM ET (1443 GMT)
A NASA mission to Saturn's moon Titan has been delayed. NASA announced Tuesday that it postponed a confirmation review of the Dragonfly mission earlier...
SpaceX launches Starlink satellites
Posted: Sat, Dec 2 9:41 AM ET (1441 GMT)
SpaceX launched another set of Starlink satellites late Monday. A Falcon 9 lifted off from Cape Canaveral at 11:20 pm EDT (0420 GMT Tuesday)...
Two Canadian astronauts receive mission assignments
Posted: Sat, Dec 2 9:40 AM ET (1440 GMT)
Two Canadian astronauts have received new mission assignments. At an event Nov. 20, the Canadian Space Agency said that Joshua Kutryk will go to the...