Posted: Sat, Oct 16 6:09 PM ET (2209 GMT)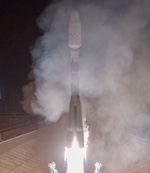 A Soyuz rocket launched Thursday with the latest batch of OneWeb satellites. The Soyuz-2.1b rocket lifted off from the Vostochny Cosmodrome in Russia at 5:40 am EDT (0940 GMT). Its payload of 36 OneWeb satellites was deployed over the course of four hours. The launch brings the constellation just past the halfway mark to its full size of 648 satellites.
Posted: Sat, Oct 16 6:02 PM ET (2202 GMT)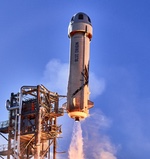 Blue Origin launched four people, including Star Trek actor William Shatner, on a suborbital flight Wednesday. The New Shepard vehicle lifted off from the company's West Texas site at 10:49 am EDT (1449 GMT), reaching a peak altitude of 107 kilometers before landing a little more than 10 minutes after liftoff. This was the second crewed flight of New Shepard, after a July flight that carried company founder Jeff Bezos and three others. Shatner was exuberant after his flight, offering a long description of the experience to Bezos. Also on the flight were entrepreneurs Chris Boshuizen and Glen de Vries, and Blue Origin vice president Audrey Powers.
JWST arrives in French Guiana
Posted: Sat, Oct 16 5:56 PM ET (2156 GMT)
NASA's James Webb Space Telescope has arrived in French Guiana. NASA and ESA said Tuesday that the ship transporting the giant space telescope from...
Australia to build lunar rover
Posted: Sat, Oct 16 5:53 PM ET (2153 GMT)
Australia will contribute a small robotic rover to a future NASA lunar lander mission. NASA and the Australian Space Agency announced Tuesday that Australia will...
Astra identifies cause of August launch failure
Posted: Sat, Oct 16 5:51 PM ET (2151 GMT)
Astra says it has identified the cause of an August launch failure and is gearing up for its next mission. The company said Tuesday that...