Posted: Sun, Jul 5 10:02 AM ET (1402 GMT)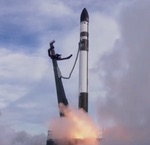 An Electron rocket malfunctioned during a launch Saturday, preventing its payload of seven satellites from reaching orbit. The Electron lifted off from Rocket Lab's Launch Complex 1 in New Zealand at 5:19 pm EDT (2119 GMT) Saturday after a one-day weather delay. The launch initially appeared to go well, but about 5 minutes and 45 seconds after liftoff, the rocket's second stage started to lose altitude, according to telemetry displayed on the company's webcast. Rocket Lab later confirmed that the launch had failed, but didn't disclose a potential cause for the failure. The Electron was carrying a Earth imaging smallsat for Canon, five SuperDove imaging satellites for Planet, and the Faraday-1 cubesat for British company In-Space Missions that hosted payloads for several customers.
Posted: Sat, Jul 4 10:50 AM ET (1450 GMT)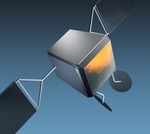 The British government joined forces with an Indian telecom company to secure the winning bid for the assets of satellite megaconstellation company OneWeb, they announced Friday. The British government and Indian mobile network operator Bharti Global are each providing $500 million to buy OneWeb, which filed for Chapter 11 bankruptcy protection in the United States in March. The deal, pending court approval, is expected to close in the fourth quarter of 2020. The UK government says it plans to build out the OneWeb constellation to provide global broadband services, and government officials have previously suggested that they will use OneWeb to provide navigation services of some kind. The sale may also result in manufacturing of the satellites to move from the US to the UK.
China launches remote sensing satellite
Posted: Sat, Jul 4 10:43 AM ET (1443 GMT)
A Long March 4B rocked launched the latest in a series of high-resolution remote sensing satellites Thursday. The rocket lifted off from the Taiyuan...
Astronauts perform second battery replacement spacewalk
Posted: Thu, Jul 2 8:26 PM ET (0026 GMT)
Astronauts completed a set of battery replacements outside the International Space Station Wednesday. Bob Behnken and Chris Cassidy conducted a six-hour spacewalk to finish...
SpaceX launches GPS satellite
Posted: Thu, Jul 2 8:24 PM ET (0024 GMT)
SpaceX launched a GPS satellite Tuesday afternoon. The Falcon 9 lifted off from Cape Canaveral, Florida, at 4:10 pm EDT (2010 GMT) and deployed...