Posted: Wed, Oct 23 6:49 AM ET (1049 GMT)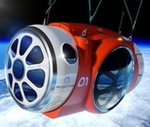 A new venture announced plans Monday to fly tourists into the upper atmosphere on a balloon that will be licensed as a launch vehicle. World View Enterprises said it will develop a capsule that would be lofted by a balloon to an altitude of 30 kilometers, remaining there for up to several hours before gliding back to the ground under a parafoil. The capsule would be able to carry six paying passengers, at a price of $75,000 each, plus two pilots. The announcement was tied to the publication of a determination by the FAA that the system should be licensed as a launch vehicle, and not fall under aviation regulations, because the capsule will be exposed to space-like conditions at that altitude and will be designed and tested to operate in the space environment. The company plans to begin operations no earlier than 2016.
Posted: Sat, Oct 5 8:07 AM ET (1207 GMT)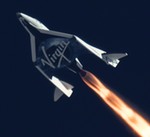 Television network NBC and space tourism company Virgin Galactic announced on Thursday plans to work with veteran reality TV producer Mark Burnett on a show whose winner will fly in space. The "Space Race" program will feature people completing for the chance to fly into space on Virgin's SpaceShipTwo suborbital vehicle. Much of the series will be filmed at Spaceport America in New Mexico, although the announcement did not indicate when the series would be produced and telecast. Virgin Galactic is currently in the flight test program for SpaceShipTwo, and has previously indicated it would begin commercial flights of the vehicle some time next year. Burnett, best known as the producer of the hit reality TV series "Survivor," previously attempted a space-themed show called "Destination Mir" where the winner would have gone to the Russian space station Mir; the deorbiting of Mir in 2001 ended that concept.
SpaceShipTwo performs second powered test flight
Posted: Fri, Sep 6 7:03 AM ET (1103 GMT)
Virgin Galactic flew its SpaceShipTwo suborbital vehicle on its second powered flight Thursday as the company claimed it was on track to bring commercial operations...
SpaceShipTwo performs first powered flight
Posted: Tue, Apr 30 7:14 AM ET (1114 GMT)
Virgin Galactic's SpaceShipTwo commercial suborbital spacecraft flew its first flight under rocket power on Monday, a brief test that sent the winged vehicle past...
Sarah Brightman to go to ISS
Posted: Thu, Oct 11 7:24 AM ET (1124 GMT)
Singer Sarah Brightman will travel to the International Space Station as a space tourist, she and Space Adventures announced on Wednesday. Brightman will take a...