Posted: Sat, Jan 11 10:11 AM ET (1511 GMT)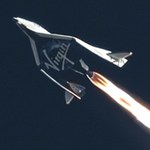 A piloted suborbital vehicle made its third powered flight on Friday as officials with the company developing it said they were still on track to begin commercial flights later this year. Virgin Galactic's SpaceShipTwo was released by its WhiteKnightTwo aircraft shortly after 8 am PST (11 am EST, 1600 GMT) Friday after taking off from the Mojave Air and Space Port in California. SpaceShipTwo then fired its hybrid rocket motor for 20 seconds, reaching a peak speed of Mach 1.4 and ascending to 21,600 meters (71,000 feet) before gliding to a runway landing at Mojave. The flight was only slightly higher and faster than the previous SpaceShipTwo test flight in early September, which itself was only slightly higher performance from the vehicle's first powered flight in late April 2013. However, company officials said the flight keeps Virgin Galactic on track to begin commercial suborbital flights of SpaceShipTwo later this year.
Posted: Wed, Oct 23 6:49 AM ET (1049 GMT)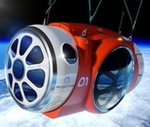 A new venture announced plans Monday to fly tourists into the upper atmosphere on a balloon that will be licensed as a launch vehicle. World View Enterprises said it will develop a capsule that would be lofted by a balloon to an altitude of 30 kilometers, remaining there for up to several hours before gliding back to the ground under a parafoil. The capsule would be able to carry six paying passengers, at a price of $75,000 each, plus two pilots. The announcement was tied to the publication of a determination by the FAA that the system should be licensed as a launch vehicle, and not fall under aviation regulations, because the capsule will be exposed to space-like conditions at that altitude and will be designed and tested to operate in the space environment. The company plans to begin operations no earlier than 2016.
NBC and Virgin Galactic partner on space tourism reality show
Posted: Sat, Oct 5 8:07 AM ET (1207 GMT)
Television network NBC and space tourism company Virgin Galactic announced on Thursday plans to work with veteran reality TV producer Mark Burnett on a show...
SpaceShipTwo performs second powered test flight
Posted: Fri, Sep 6 7:03 AM ET (1103 GMT)
Virgin Galactic flew its SpaceShipTwo suborbital vehicle on its second powered flight Thursday as the company claimed it was on track to bring commercial operations...
SpaceShipTwo performs first powered flight
Posted: Tue, Apr 30 7:14 AM ET (1114 GMT)
Virgin Galactic's SpaceShipTwo commercial suborbital spacecraft flew its first flight under rocket power on Monday, a brief test that sent the winged vehicle past...