Posted: Tue, Apr 30 7:14 AM ET (1114 GMT)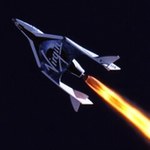 Virgin Galactic's SpaceShipTwo commercial suborbital spacecraft flew its first flight under rocket power on Monday, a brief test that sent the winged vehicle past the sound barrier. SpaceShipTwo, carried aloft by its WhiteKnightTwo carrier aircraft, separated from the plane and ignited its hybrid rocket motor for a 16-second burn about 45 minutes after a 7:02 am PDT (1402 GMT) takeoff from the Mojave Air and Space Port in California. The rocket burn sent SpaceShipTwo to an altitude of about 16,800 meters and a speed of Mach 1.2 before gliding to a runway landing in Mojave. The flight was the first time SpaceShipTwo had flown under rocket power, after extensive glide tests of the spacecraft and ground-based rocket engine tests. Virgin Galactic is planning a series of test flights leading up to a full-fledged suborbital spaceflight by the end of the year, with commercial service to begin next year.
Posted: Thu, Oct 11 7:24 AM ET (1124 GMT)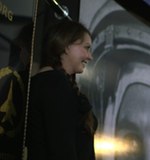 Singer Sarah Brightman will travel to the International Space Station as a space tourist, she and Space Adventures announced on Wednesday. Brightman will take a 10-day trip to the ISS at an unspecified future date, most likely 2015, when seats will be available on Soyuz spacecraft traveling to and from the station. Brightman has partnered with UNESCO to support its mission to "promote peace and sustainable development"; those activities are expected to include a singing performance of some kind while on the station. Brightman undertook and passed a battery of tests in July to confirm that she is medically qualified to fly to the station. Neither Space Adventures nor the Russian space agency disclosed the price of her flight to the station beyond "tens of millions" of dollars.
Virgin Galactic announces 500th customer
Posted: Wed, Mar 21 5:55 AM ET (0955 GMT)
Space tourism company Virgin Galactic announced this week it has signed up a famous actor as its 500th customer for its suborbital spaceflights. Virgin said...
Virgin Galactic dedicates spaceport terminal building
Posted: Tue, Oct 18 8:07 AM ET (1207 GMT)
Space tourism company Virgin Galactic formally dedicated the terminal building that will host its suborbital spaceflights in New Mexico in a ceremony on Monday. The...
Space Adventures confirms circumlunar mission plans
Posted: Fri, May 6 6:30 AM ET (1030 GMT)
Space tourism company Space Adventures confirmed Thursday that they plan to carry out a commercial mission around the Moon as early as the end of...