Posted: Mon, Nov 3 9:04 AM ET (1404 GMT)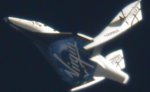 Investigators with the National Transportation Safety Board (NTSB) said late Sunday that data they have collected indicates that SpaceShipTwo's feathering system appeared to deploy while the vehicle was in powered flight on its fatal October 31 test flight. The NTSB said that telemetry from SpaceShipTwo, as well as cockpit video, showed that the co-pilot unlocked the feathering system nine seconds into powered flight. The pilots did not move another handle to deploy the feathering system, but the NTSB said the feathering mechanism extended two seconds after unlocking. The feathering system is designed to raise the vehicle's twin tail booms during reentry to provide increased drag and stable flight. The NTSB said the vehicle's hybrid rocket motor, which had previously been the subject of speculation about the accident, performed normally, and investigators said engine components recovered in the debris were intact with no evidence of burn-through.
Posted: Sun, Nov 2 8:07 AM ET (1307 GMT)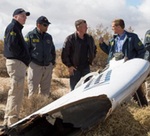 The National Transportation Safety Board started their investigation Saturday into the October 31 crash of Virgin Galactic's SpaceShipTwo, an accident that killed one pilot and injured the other. The NTSB's acting chairman said late Saturday that the wreckage from the accident stretched for eight kilometers in the desert north of Mojave, California, and included the vehicle's tail booms, propellant tanks, fuselage, cockpit, and engine. The NTSB said it has extensive data from the flight, including camera mounted on SpaceShipTwo itself. The NTSB plans to remain in Mojave for up to a week, but the full investigation may take up to a year to complete. Scaled Composites said Saturday that the pilot who was killed in the accident was Michael Alsbury, a company test pilot who flew on SpaceShipTwo's first powered flight in 2013 and, most recently, in August. The injured pilot is Scaled's director of flight operations, Peter Siebold, who has also flown on several SpaceShipTwo flights and, previously, SpaceShipOne.
SpaceShipTwo crashes in test flight, one pilot killed
Posted: Sat, Nov 1 8:21 AM ET (1221 GMT)
Virgin Galactic's SpaceShipTwo suborbital spaceplane crashed during a test flight Friday near Mojave, California, killing one pilot and injuring the other. The vehicle, making...
XCOR Aerospace raises $14 million
Posted: Wed, May 28 12:47 PM ET (1647 GMT)
Suborbital vehicle developer XCOR Aerospace announced Tuesday that it has raised $14.2 million in a new funding round led by Dutch investors that will...
SpaceShipTwo performs third powered flight
Posted: Sat, Jan 11 10:11 AM ET (1511 GMT)
A piloted suborbital vehicle made its third powered flight on Friday as officials with the company developing it said they were still on track to...